Synergy Smart Home Plan
Make the shift & save with Synergy Smart Home Plan
Save money by using less power at peak times
Simply change the time of your electricity use to reduce your energy costs
Take advantage of lower rates at different times of the day and week
We'll organise the installation or reprogramming of your meter
Track your usage with My Account - our free energy management tool
Sign up online in just a few minutes
What you need to know
By making the shift to using more energy at cheaper Off-peak and Shoulder times, you could save on your energy costs.
As a time-of-use energy plan, the Synergy Smart Home Plan offers you the choice of shifting your power use from Peak time periods. There are 4 time bands that apply all year round:
Everyday Off-peak (9pm to 7am)
Make big savings by shifting the majority of your usage to this period.
Peak - weekdays only (3pm to 9pm)
Avoid or use less energy during this time as it has a higher charge.

Weekday shoulder (7am to 3pm)
Rates are between Peak and Off-peak.

Weekend shoulder (7am to 9pm)
A large window for energy use at a moderate rates.
| Item | Price inc. GST |
| --- | --- |
| Supply charge | 105.1400 cents per day |
| Everyday Off-peak electricity charge | 15.3645 cents per unit |
| Weekend shoulder electricity charge | 29.2100 cents per unit |
| Weekday shoulder electricity charge | 29.2100 cents per unit |
| Peak electricity charge | 55.7734 cents per unit |
Calculating your cost
The Smart Home Plan rates are lower than the standard residential A1 tariff during the Shoulder and Off-peak periods, but higher than the standard residential A1 tariff during Peak periods, so be sure to switch your usage if you can, during these times.
A time-of-use meter records the amount of energy and what time of day the electricity was used. The rate applicable during that time period is then charged. Check out this example bill to see how the rates are applied and reported.
More information on can be found in the Smart Home Plan brochure (PDF 181KB) or visit the Help & advice section for information and FAQs on electricity.
Other fees & charges, including meter prices
Other fees & charges may apply, including the charges for installing a time of use meter in new and existing homes.
Building a new home?
For customers building a new home where electricity has not been connected, please discuss the best type of meter for your electricity use with your electrical contractor or builder to make sure they install the most suitable meter for your needs. If a new meter or reprogramming of your existing meter is required the meter installation or programming fee will be charged in full on your next Synergy bill.
| Fees & charges | Price inc. GST |
| --- | --- |
| Meter reconfiguration fee | $ 95.70 |
| Meter reconfiguration fee - remote | $ 34.00 |
| Meter testing fee (refunded if meter is faulty) | $ 336.15 |
| Meter testing fee - Concession | $ 144.00 |
| Special meter reading fee | $ 27.90 |
| Special meter reading fee - remote | $ 17.60 |
| Meter upgrade fee | $ 95.70 |
Don't forget the small print
Prices
Prices are subject to change from time to time and other fees and charges may also apply. Unless otherwise stated, all prices include GST and are effective at 1 July 2021. By law we calculate our prices to four decimal places. Electricity is charged by the 'unit'. A 'unit' is one kilowatt-hour (kWh).
The pricing details shown relate to Synergy customers connected to the South West Interconnected System (SWIS), covering the area from Kalbarri in the North, down to Albany in the South and East to Kalgoorlie. For other areas of Western Australia outside of the SWIS please contact Horizon Power.
'Weekday' means Monday to Friday, including public holidays.
The supply charge is the daily fixed charge element of your tariff which applies irrespective of how much electricity you consume.
Meters
To be eligible for the Synergy Smart Home Plan rates, you will need to have a compatible meter installed or an existing meter reprogrammed. Meter installation and programming charges may apply and are stated above for both existing and new homes. Synergy's Smart Home Plan compatible meter is not transferable to any other property and/or moves. Synergy's Smart Home Plan compatible meter always remains the property of the network operator, Western Power.
New Home Meter Prices apply when you are building a new home and electricity is not connected.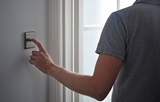 Making the most of your Smart Home Plan
Once you've decided on the Smart Home Plan, to get the most of it you'll have to make some changes. Read below or visit the Save energy section for more great energy savings tips at home.
There are appliances that are easy to shift to cheaper time periods. In summer you could wash your clothes first thing in the morning, run your dishwasher after 9pm and give your air-conditioning a rest during peak periods.

You could even have a timer fitted to your electric water heater, reticulation, your bore and pool pump; after all, they are 'Off-peak appliances'. Also, take a quick look at your existing appliances. You might be surprised to find that the washing machine you've been using for years actually has a timer.

For more hints and tips, visit the Save Energy section.

Compatible with
Green Energy
Reduce your carbon footprint and purchase some of your energy via renewable sources.
Green energy options
Solar
Combine your plan with solar and save even more. We can help you decide if solar is right for you.
Learn more
Connect today with Smart Home Plan
Switch to Smart Home Plan
It's easy to switch to the Smart Home Plan online in less than 5 minutes. Just have a copy of your bill details handy...
Sign up today
Once your application is received, we'll send Western Power to your property to reprogram or replace your meter so it's compatible with the Smart Home Plan.
And if Smart Home Plan isn't working for you, you can switch back to a Synergy Home Plan® anytime.
I'm moving
Whether you're moving in or out, you can create or transfer your electricity connection online in less than 10 minutes
Just have a copy of your bill, new address and meter number handy to get started
It takes around 3 business days (excluding weekends) to get you connected and you'll receive your first bill after that
I'm building
You or your builder can set up your temporary or permanent supply online.
Make sure Landgate has titled your land as you'll need to provide us with the lot number
Firstly, check your property has underground power (the shiny green dome) or call Western Power on 13 10 87 to confirm
I'm new to Synergy
Firstly, welcome! If you've never had an account with us before, we just need a few extra details to get your account up and running.
Have your new address details, move in date and contact details handy. Please allow a minimum of 3 business days to organise your connection.