Is my bill estimated?
Estimated and adjusted bills - December 2021 to April 2022
Did you receive an estimated or adjusted bill for the period between December 2021 and April 2022? For more information, please read our FAQ.
If you receive a high estimated or adjusted bill and you need more time to pay, please get in touch with us. We're here to help.
You can check if your bill is estimated by grabbing a copy of your bill...
Look for the 'How much energy have you used?' chart half way down the bill.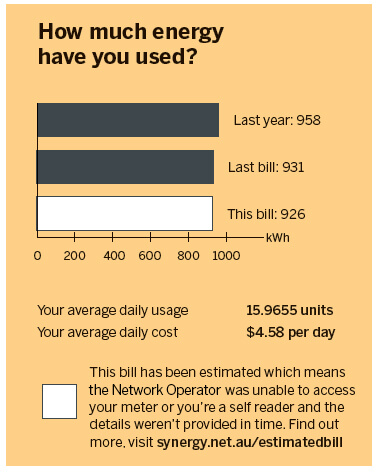 If your bill has been estimated, then the 'This bill' horizontal bar will be shaded white instead.
There are many common reasons which may be behind your bill estimation:
The Western Power meter reader was unable to access your meter when they arrived onsite for the reading. This may be due to a locked gate, dog or signs of a dog, locked meter box or other obstacles that prevented them from accessing your meter.
The meter was affected by a fault or damage that prevented the Western Power meter reader from obtaining a reading. Western Power will replace or repair the meter when this happens, and will normally be in contact with you to arrange a suitable time for this to occur.
If you're a registered self-reader and you were unable to provide these details in time for your billing cycle, or you provided them but it failed validation by Western Power. Meter reads typically fail validation when the new consumption doesn't fit with past consumption patterns. This can be because the meter has been read incorrectly or because there's been a change in behaviour or appliances at the premise. Requesting a check read can resolve this for you, the service is free of charge if your readings are correct.
If you have an interval meter and your bill has been based on partial estimated interval meter data. This is most commonly due to a Western Power reading prior to the scheduled reading date. This estimated data is normally replaced with actual read data when the meter is next read.
If your bill is estimated the Network Operator, Western Power must estimate in accordance with the estimation methodology prescribed in the Electricity Industry Metering Code 2012.
Important information to note:
Western Power meter readers won't enter any enclosure where there is a dog or signs of a dog, regardless of the breed or how friendly it seems.
Western Power meter readers won't climb over fences or gates to access your meter.
Western Power meters readers won't open meter boxes where there's signs of bees or wasp nests.
If unable to access your meter, Western Power meter readers will normally leave a 'Skip Read' card with specific details about the access issue. If you don't believe the reason is accurate, you can call Western Power on 13 10 87 to discuss further. Sometimes it's possible that outdated meter reading access notes from a previous tenant or situation have remained against your site and are instructing the meter readers not to enter your property (e.g. beware of dog).
If you believe an access issue is genuine and will be ongoing there is a number of actions you may consider to resolve it:

Installation of master key utility locks, available from licensed locksmiths and security suppliers
Moving your meter to the outer boundary of your property. A licensed Electrical Contractor can facilitate this for you.
Enclosing your dog away from the meter
Upgrading your meter to include remote communications. Synergy can arrange for Western Power to install this for you.
Please note your standard form contract with Synergy requires you to implement one or more of the above options to ensure safe access to your meter is available at all times
Further information on meter reading processes can be found on Western Power's website.

If your estimation is valid but you would like to discuss this further, please submit an online enquiry or call us on 13 13 53.
Related content
Am I eligible for concessions?
More ways to get help with your bill