Planning for WA's energy future.
Kwinana Battery Energy Storage System 2 (KBESS2) will be Synergy's second lithium-ion, large scale battery energy storage system in the SWIS.
In developing KBESS2, our SynergyRED team are working on a range of innovative, industry-leading delivery concepts to create additional utility scale energy storage solutions for the SWIS.
This project is crucial to closing our coal-fired power stations, in line with the State Government's announced retirement schedule to achieve its 2030 emissions reduction targets. Adding this volume of battery storage to the grid is required for large-scale renewable generation assets to be able to be connected to the network.
Location
The KBESS2 battery will be located with KBESS1 at the existing Kwinana Power Station site, which was successfully commissioned in mid-2023.
The site is within the suburb of Naval Base on the Swan Coastal Plain, situated approximately 30km southwest of Perth's central business district, 17km south of Fremantle and 5.5 kilometres northwest of the Kwinana town centre.
The site is within one of WA's most important industrial areas. The land is comprised within the local government districts of Cockburn, Kwinana and Rockingham within the Kwinana Strategic Industrial Area.
KBESS2 will connect to the 330kV Western Power transmission system via existing infrastructure at the adjacent KBESS1 site.
Layout and size
This second battery at the Kwinana Power Station site will allow for up to 200MW/800MWh of additional energy storage capacity.
KBESS2 construction is currently in progress but it is estimated it will be around 350m in length and 150m in width and will have a number of containerised/modularised batteries and infrastructure such as inverters and transformers. Acoustic walls will also be constructed around the boundary of the battery.
Progress
KBESS2 is currently under construction. CATL (Contemporary Amperex Technology Co., Limited) will supply approximately 330 Enerc Plus, containerised liquid-cooling battery systems for KBESS2, while Power Electronics will provide 72 inverters.


Key project dates
| | |
| --- | --- |
| Late 2022 | Project scoping |
| May 2023 | Development approval obtained |
| June 2023 | Construction commenced |
| End 2024 | Expected commissioning |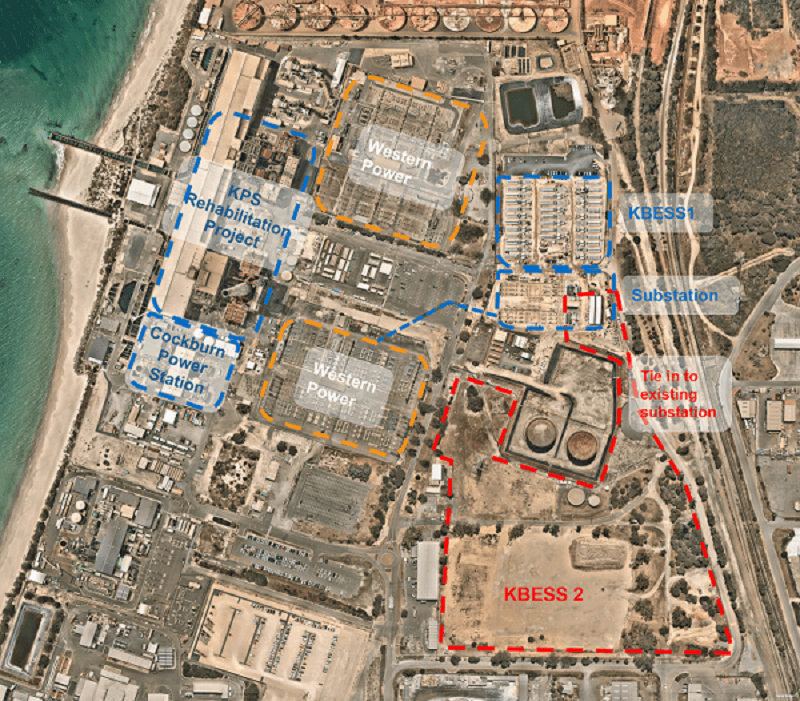 Annotated site map of the Kwinana BESS, showing the planned location for KBESS2
Frequently Asked Questions
The anticipated commission date for KBESS2 to be commissioned is in late 2024.

The SWIS is likely to need multiple battery energy storage solutions to support the retirement of Synergy's coal-fired power stations. So far, KBESS1 is Synergy's only battery project to be constructed and commissioned in 2023 but planning is in progress for KBESS2 and CBESS.
We're here to help
If you have questions about this project which aren't answered here, please email us and someone from our team will be in touch.
Email the team
Explore SynergyRED Projects
Learn more about our renewable energy projects
Collie Battery Energy Storage System
When this battery storage project is complete, it will be one of the world's biggest battery energy storage systems. Learn about our Collie Battery Energy Storage System (CBESS) and its role in WA's energy future.
Find out more
Kings Rocks Wind Farm
Along with battery storage solutions, expanding and building wind farms across WA is an important part of transforming the State's energy future. Discover how we're harnessing the power of the wind with King Rocks Wind Farm.
Find out more