Keeping the electricity system balanced.
Phasing out coal-fired electricity and moving into a more renewable energy future involves keeping the supply and demand for electricity in the system balanced. Battery storage solutions are key to this transition here in WA.
The role of battery storage in WA
Rooftop solar PV systems can generate high levels of renewable electricity during the day – and batteries can help to store the excess to distribute and use at other times.

The Whole of System Plan produced by Energy Policy in October 2020 found that significant levels of energy storage will be needed in the South West Interconnected System (SWIS) over the next decade. In response, our SynergyRED team has constructed a battery energy storage system (BESS) to help support the electricity system as our state transitions into a new energy future, which resulted in the development of a suite of BESS projects; KBESS1, KBESS2, and CBESS.
Why BESS?
Energy storage technology forms a key part of the State Government's Energy Transformation Strategy and is central also to the decarbonisation strategy. BESS could help support higher levels of renewable electricity generation from residential solar PV systems and large-scale wind and solar generation infrastructure being connected to the grid.
During the day, the electricity system receives a lot of solar power, which is generated and exported to the grid by rooftop solar PV systems across the SWIS. Once the sun is no longer shining, electricity demand goes up across the grid, however supply and demand in the electricity system needs to be balanced.

Installing large scale energy storage solutions in the form of BESS could help support the SWIS by enhancing network stability and security.

The main purpose of BESS solutions is to help manage system security issues and help to balance supply and demand in the electricity system. Battery storage may also be able to provide other network services such as voltage control and frequency control.
Large-scale battery storage locations
Currently there are three SynergyRED BESS projects to be connected to the SWIS. These are the Kwinana Battery Energy Storage System 1 (KBESS1), which was commissioned in 2023, the Kwinana Battery Energy Storage System 2 (KBESS2) which is under construction, and Collie Battery Energy Storage System (CBESS) which was submitted for development application in September 2023.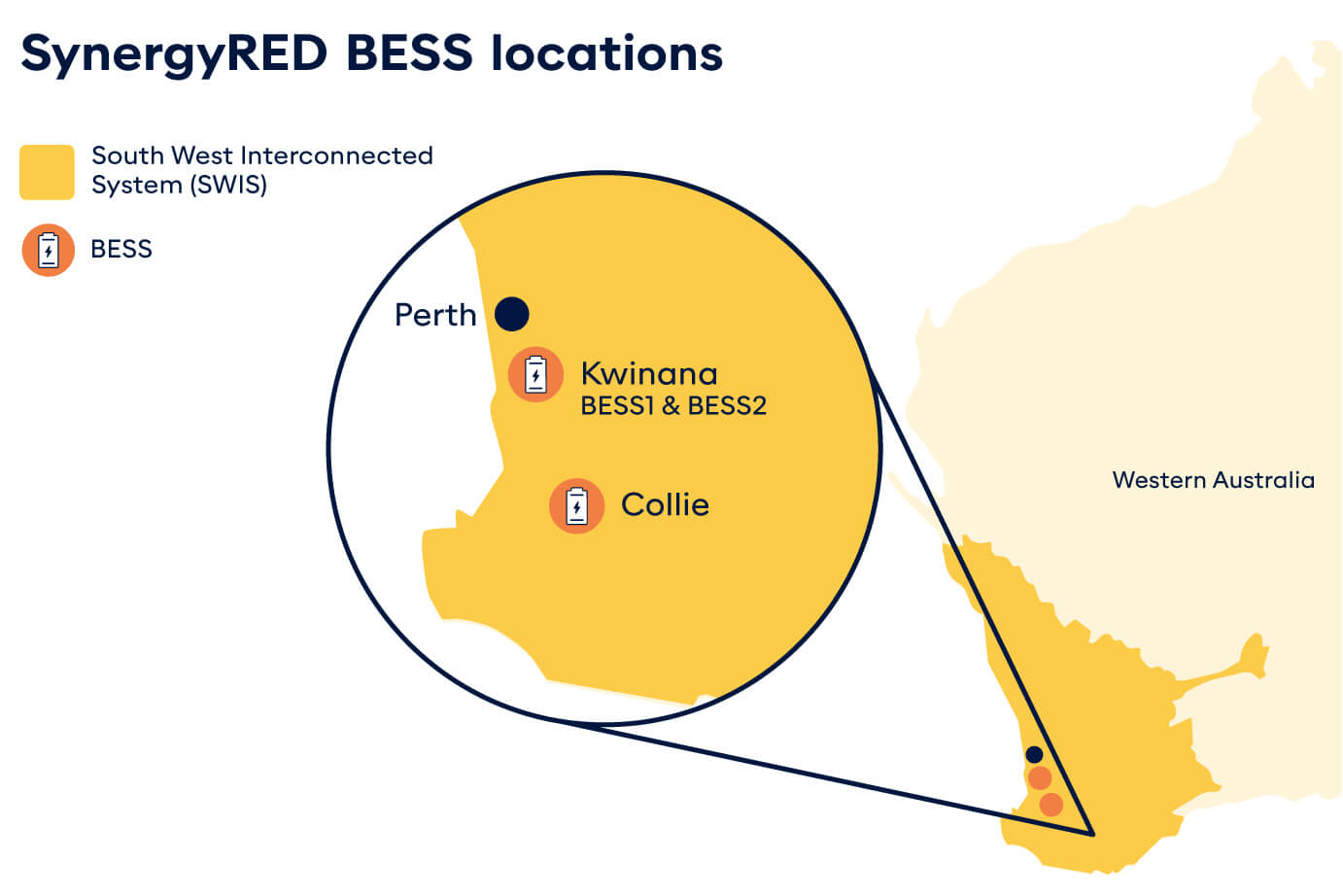 Frequently Asked Questions
Batteries and renewable generation capability used together means that electricity from renewable generation sources can be stored during times of low demand. This electricity can then be discharged into the grid to be used by homes and businesses at times of peak demand.

Batteries can be more flexible than other forms of energy storage and generation technologies, which makes them a highly valued part of the electricity system. They can generally be switched on and off in the fraction of a second, which means they can respond faster than other energy technologies to help keep the grid balanced as needed.

The BESS, or 'Big Batteries', will help to keep the electricity system stable and help in the transition to even more renewable electricity in our system.

Batteries can absorb excess electricity in the system when demand is low during the day, then store it and discharge the stored energy into the system when demand picks up again in the afternoon and evening. Batteries can charge and discharge rapidly compared with other generation technologies, which can help to smooth the demand volatility caused by renewable generation sources in the grid.

To support the replacement of power from coal-fired power stations with renewable generation capacity, it is likely multiple battery energy storage systems will be needed.

So far, the Kwinana Battery Energy Storage System 1 (KBESS1) is the only SynergyRED battery project to be constructed and commissioned in 2023. A development application has been submitted for KBESS2.
We're here to help
If you have questions about this project which aren't answered here, please email us and someone from our team will be in touch.
Email the team
Explore SynergyRED projects
Learn more about renewable energy projects in WA.
Kwinana Battery Energy Storage System 1
Battery storage solutions are designed to store and distribute energy and can help support the security and reliability of the electricity system. Learn about our Kwinana Battery Energy Storage System 1 which was commissioned in 2023, a first for WA.
Find out more
Collie Battery Energy Storage System
When this battery storage project is complete, it will be one of the world's biggest battery energy storage systems. Learn about our Collie Battery Energy Storage System (CBESS) and its role in WA's energy future.
Find out more