Employee benefits
Synergy offers a range of employee benefits, including:
Flexible work arrangements
Additional annual leave
Free gym or discounted health club membership
Volunteer leave for community services
Corporate partnership benefits such as discounted healthcare and insurance packages
Flexible work arrangement
We provide flexible work arrangement as one of our key benefits. For example, we provide flexible work arrangements for new dads, providing them with access to primary carer's leave anytime within the 12 months following the birth or adoption of their child.
One of the most flexible work arrangements is the '9-day fortnight'. Many of our full-timers work additional hours during the day, so that they can have one day off a fortnight.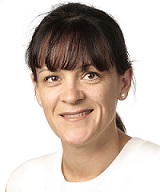 "I have been working in a part time capacity at Synergy since 2010. During this time, I was able to proudly and comfortably announce the pregnancies of my three children which were celebrated within the teams I was in at the time. I am accepted and supported as a part time employee and work collaboratively with our team and leaders should any challenges occur. Most importantly, I am given challenging and interesting work."