Electric vehicles (EVs) are the way forward to help reduce emissions and pollution for Western Australians.
That's why Synergy and Horizon Power are working with the State Government to create Australia's longest EV charging network. The network is proposed to run from Kununurra (in the north) to Esperance (in the south) and Eucla (in the south east) and include the installation of up to 98 EV charging stations across the State by early 2024.
The initiative is part of the State Government's Electric Vehicle Action Plan and is key to boosting EV uptake in WA which helps continue the transition to net zero carbon emissions by 2050.
WA's energy future is for us all, which is why Synergy continues to explore energy technologies to help create a cleaner, more sustainable and more reliable energy future for our customers.
Where will the EV charger stations be located?
The network aims to deliver a convenient and seamless charging experience for all WA customers, which is why 49 locations have been chosen across the state.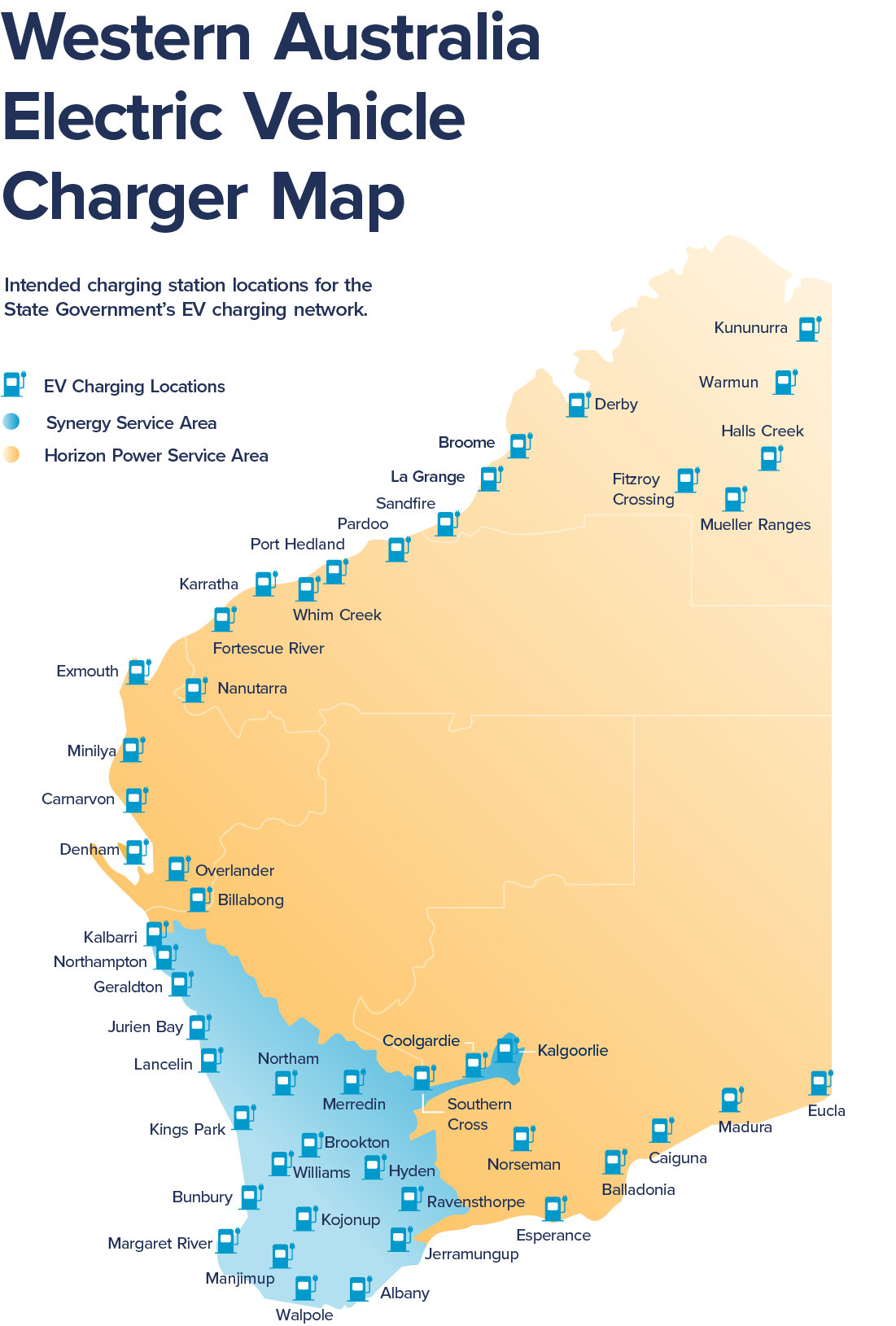 The Electric Vehicle Action Plan
The State Government's Electric Vehicle Action Plan is designed to prepare for a future where the electricity system can support the rapid uptake of EVs without compromising safety and reliability. An EV charged using the State' main electricity grid will generate 30% less greenhouse gas emissions than a conventional petrol vehicle.
The network will be made up of rapid chargers which may be rated at different power levels. Charging times will vary depending on the make and model of your vehicle and the charging station you use.

As we're in the early phase of this project we're still working through what these costs look like, however, you'll be able to confirm the cost before you charge.

The EV charging station locations on the network were identified and selected by Synergy and Horizon Power in consultation with the Department of Water and Environmental Regulation. Consultation with local government in these areas may result in changes to the proposed charging station locations, including the eight additional charging stations to be installed at four locations between Norseman and Eucla that will complete the link to South Australia that were recently announced.

Currently, Synergy only offers one retail tariff for EV customers in the SWIS, Synergy's EV Add On. This plan is a time of use product that offers reduced rates for charging your EV during the Super Off Peak (9am to 3pm) and Overnight (11pm to 6am) time periods.

Find out more here.

Synergy and Horizon Power are pleased to advise that following a tender process the hardware contract has been awarded to JET Charge who will be providing Kempower, Tritium and ChargeMate chargers for installation across the EV network. We've also awarded the software and charger management tender to 100% Australian owned company Chargefox.

Construction of the first charging station is planned to commence in late 2022. The EV network is expected to be fully operational in early 2024.