Synergy to take part in Subiaco Christmas Night of Lights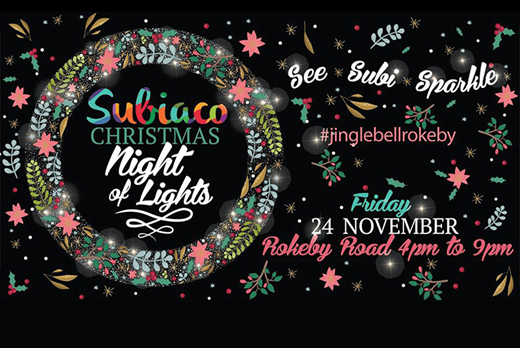 Synergy is pleased to announce it is joining the City of Subiaco to take part in this year's Subiaco Christmas Night of Lights on Friday the 24th of November.
The vibrant community event will see Subiaco once again come alive with Christmas festivities, with a mass of colourful decorations transforming Rokeby Road into a holiday wonderland.
The Subiaco Christmas Night of Lights is expected to attract thousands of visitors following the success of last year's inaugural event, which saw around 15,000 people descend on central Subiaco.
Along with a dazzling lights display, locals and visitors can enjoy carol singing, free activities, creative and hand-crafted stalls and an assortment of food and beverage outlets. Subiaco will also will display an 11 metre tall Christmas tree to further promote the joyous occasion.
As part of this year's Synergy Xmas Lights Trail, the Synergy Elves will perform a musical show to encourage visitors to the Night of Lights to support Lifeline WA's Shine a Light for Life Christmas appeal. The Synergy Elves Tiny Home, which is covered in thousands of solar powered lights, will also be at the event to bring the festive spirit.
Synergy marketing manager Kelley Yeats said the Synergy Xmas Lights Trail provided a unique opportunity for people to raise thousands of dollars for Lifeline WA.
"We are aiming to reach as many of our customers as possible by creating an experience for people of all ages in both metropolitan and regional areas to enjoy the spirit of the festive season, while raising awareness about Lifeline WA," Ms Yeats said.
The winner of the Local Business #ShineaLightforLife window competition will announced at 7.45pm at the Main Stage.
The Subiaco Christmas Night of Lights is free and will be taking place from 4pm to 9pm and the Synergy's Elves will be performing with their Tiny Home on Rokeby Road from 6pm.
For more information on the Subiaco Christmas Night of Lights visit the City of Subiaco events page.
Media contact:
Carolyn Herbert
0447 195 714/ (08) 6282 7319
carolyn.herbert@synergy.net.au