WA EV Network charging station now open in Jurien Bay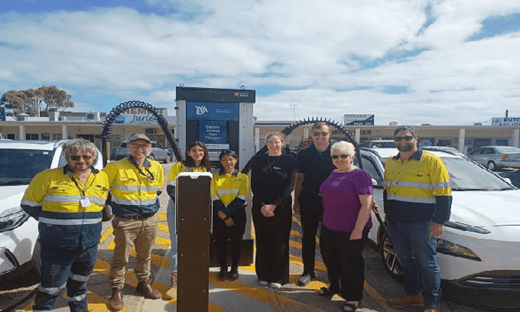 As announced by the Western Australian Government: WA EV Network charging station now open in Jurien Bay
An EV charging station is now operating in Jurien Bay
The Jurien Bay fast charger provides a link from Perth to Northampton
Part of the State Government's Electric Vehicle Strategy for Western Australia
Residents and tourists with an electric vehicle (EV) can now charge their vehicle in Jurien Bay.

The new EV charger links Perth to Northampton. It is conveniently located at the Murray Street Road Reserve, near the Indian Ocean Drive shopping complex.

The EV charging site features a DC 150 kilowatt fast charger, allowing drivers to top up their EVs in as little as 20 minutes, and a back-up AC 7.6kW charger.

Synergy delivered the fast charger in collaboration with the Shire of Dandaragan, to ensure a fast and enjoyable user experience.

WA EV Network charging stations are now operational across 11 locations across the State, including Kings Park, Carnarvon, Broome and Albany.

Synergy EV charging sites are opening soon in Southern Cross and Coolgardie, while Horizon Power is expected to deliver EV charging sites in Exmouth, Karratha, Esperance and Denham.

The WA EV Network will be the longest in Australia, with 98 EV charging stations across 49 locations. It will stretch over 7,000km, from Kununurra in the north, to Esperance in the south and east to Eucla.

The $21 million WA EV Network is part of the State Government's Electric Vehicle Strategy for Western Australia.

For more details visit: WA EV Network | Australia's Longest EV Network Coming in 2024

Comments attributed to Energy Minister Bill Johnston:

"The opening of this EV charging site in Jurien Bay is an exciting milestone in the WA EV Network.

"It links Perth to Northampton, with chargers now operating in Perth, Lancelin, Geraldton and Northampton.

"The EV charging sites are boosting tourism and making electric transportation more accessible for communities across WA."

Comments attributed to Climate Action Minister Reece Whitby:

"These are important changes and it is great to see EV fast chargers are now live in Jurien Bay.

"Every new fast charger opening along the WA EV Network is encouraging the uptake of electric vehicles.

"By delivering the WA EV Network, the State Government is driving down greenhouse gas emissions to support WA's road to net zero emissions by 2050."