Synergy teams up for affordable housing project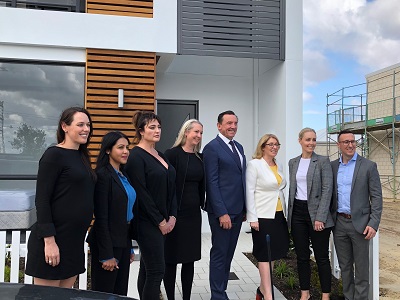 Synergy has joined builder and developer Mirvac and government lender Keystart, in an experiment in affordable housing and energy efficiency.
As part of the Mirvac Affordability Experiment, a home will be built to an 8.4 star energy rating, taking into account various energy saving initiatives, including solar passive design and energy efficient appliances.
The three bed, two bath, two-storey home valued at approximately $415,000 will be built within Iluma Private Estate in Bennett Springs, north-east of Perth.
Applications are now open for families who qualify for Keystart to apply and take part in the experiment, with the successful family moving into the home in April 2020, when the 12-month study will commence.
The family chosen to live in the home will pay rent that will be saved by Mirvac, which can then be used towards a deposit should the family wish to purchase the home at the end of the experiment.
Synergy will provide a 5kW solar PV system and a 9.8kWh battery, helping the family to better manage their energy consumption and lower their power bills.
Synergy CEO Jason Waters said Synergy was proud to be involved in such a project, which will harness the benefits of renewable energy and help reduce the chance of bill stress for first home buyers.
"Solar energy continues to be one of the most immediate opportunities for our customers to reduce their electricity bills and contribute to a cleaner electricity supply chain," Mr Waters said.
"Synergy hopes the data collected will help customers gain additional benefits from their solar PV and battery system. Sometimes it takes changing the way you use energy to get the most out of innovative technology."
The family's energy, water use, and lifestyle will be monitored over the 12-month period in order to better understand the cost savings that can be achieved by living in an efficient home.
Synergy will analyse the family's power consumption and provide energy education, to assist the family in making the most out of the installed solar PV and battery system.
Mirvac's General Manager Residential WA, Paige Walker, said that the Affordability Experiment further demonstrates Mirvac's commitment to addressing the issue of affordable housing.
"Housing affordability is a major challenge that needs to be addressed and we want to make sure we respond to our customers' needs and help find the best solutions for them," Ms Walker said.
Keystart CEO Paul Graham said the Mirvac Affordability Experiment was a fantastic opportunity for the organisation to showcase how it worked with Western Australians to make the dream of affordable home ownership a reality.
"We are excited to work with the selected family to assist them with education and financial support about purchasing your first home," Mr Graham said.
The search for the family will commence on the 25th September and families will have until 3 November to apply to be part of the project.
For more information or to apply, families should click here