Synergy small grants provide big benefits to Collie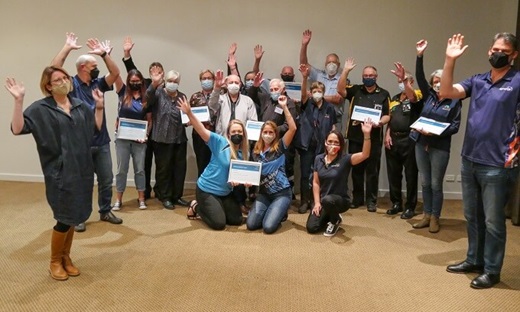 Not-for-profit community groups representing Collie's diversity are the recipients of Synergy's 2022 Collie Small
Grants Program.
Certificates were awarded to seven organisations during a ceremony held at the Collie Ridge Motel last night.
This year's beneficiaries include volunteer emergency and health services, sporting clubs and Collie heritage
groups.
Individual projects will be enhanced by up to $5,000 of funding made available for initiatives that maximise
Collie's social, environmental and economic strength.
The Collie Small Grants Program is now in its fourth year and has distributed over $140,000 towards 31 Collie
community projects.
Synergy General Manager Generation, Dion Paunich, said Synergy's commitment to the Collie community was
reflective of its proud history operating in the area.
"Synergy is part of the Collie community and we are delighted to support these seven local groups who make it
such a great place to live," Mr Paunich said.
"The Collie Small Grants Program is a grassroots investment in the people and groups who are the fabric of
everyday Collie life.
"Each deserving recipient makes an important contribution to the town through their work providing health care
and social assistance, community recreation or by preserving Collie's history."
The recipients of the 2022 Collie Small Grants Program are:
Collie BMX Club – to upgrade their PA system, enhancing track commentary and the family-friendly
sporting atmosphere, and enable a reduction of volunteers required on race day.
Collie Racing Drivers Association – to replace a 51-year-old water tank at Collie Speedway,
improving environmental infrastructure to save costs and conserve water.
Collie Rail Heritage – to upgrade lighting at the Rolling Stock Shed, enhancing the tourist attraction's
displays and improving workshop safety.
Collie Retired Mineworkers Association – to create the Memorial Wall Mural Project in Phoenix Park
by renowned artist Jacob 'Shakey' Butler, celebrating Collie's history and adding to Collie's existing
mural trail.
Collie Suicide Prevention Network – to purchase equipment to attend community events, supporting
the wellbeing of the Collie community by raising awareness and providing support and information to
people experiencing mental health issues or at risk of suicide.
HorsePower Collie – to buy a wheelchair horse carriage, enabling people with a disability or physical
decline to experience the benefits of outdoor horse-riding.
Shire of Collie Volunteer Bush Fire Brigades – to install mobile communications units to fire appliances to supply back-up for volunteers when radio communications fail.
The Synergy Collie Small Grants Program is an annual initiative with each winning project aligning to Synergy's partnership pillars of innovation, accountability, trust and collaboration.
08 6282 7707
media@synergy.net.au
Follow us on LinkedIn and Twitter
Image caption: 2022 recipients of the Synergy Collie Small Grants Program. Also pictured: Shire of Collie Council President, Sarah Stanley, and Shire of Collie Chief Executive Officer, Stuart Devenish.