Synergy shows hospitality to Wirrpanda Foundation's hard working trainees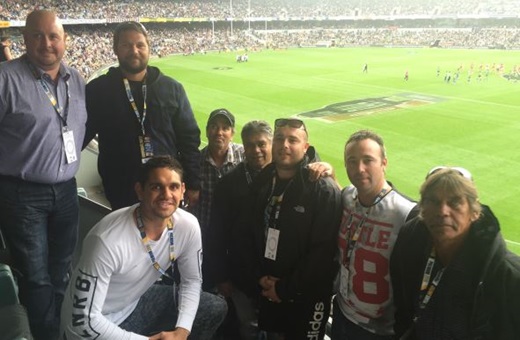 Nine rail construction trainees will experience a live Australian Football League (AFL) game during the Sir Doug Nicholls Indigenous round this Sunday from the comfort of a corporate box for the first time, thanks to Synergy.
Synergy has donated its corporate facilities at Domain Stadium to the Wirrpanda Foundation as a way of giving back and supporting the Western Australian community.
The trainees who are part of Wirrpanda Foundation's vocational and training employment centre (VTEC) Fit 4 Work program, and are working on the Perth Stadium Rail project will share the AFL experience with their mentor, employment program manager and project manager.
Wirrpanda Foundation trainee John Murphy, who has been supported by the Foundation to find employment, says the AFL experience was a good way to recognise the trainee group's efforts and contribution and was looking forward to supporting the West Coast Eagles on home soil.
"I really enjoy footy and I've never been in a box so it will be a new experience for me," Mr Murphy says.
"To be able to attend this football game together with the VTEC participants means a lot to us because it's nice to be rewarded for your hard work."
The Wirrpanda Foundation, founded by former AFL player David Wirrpanda, supports Aboriginal and Torres Strait Islander Australians in areas such as education, employment and health. The Foundation's key priority is to employ local Aboriginal role models who are empowered to build capacity in their own communities.
Wirrpanda Foundation chief executive officer Lisa Cunningham says she is delighted to accept this kind donation from Synergy.
"Without the generosity and contribution from organisations like Synergy, we simply are unable to go above and beyond to acknowledge and treat our participants and staff for their considerable efforts. It's really heart-warming for our organisation to be given opportunities like these," Ms Cunningham says.
Synergy chief executive officer Jason Waters says he was pleased to work with the Wirrpanda Foundation on recognising these trainees and giving them this unique opportunity.
"One of Synergy's values is collaboration so we're very much about supporting our communities and driving initiatives that offer value to those who need it most," Mr Waters says.
"We've been shaping our business to become a contemporary and agile organisation and we're determined to deliver on our values by increasing our levels of meaningful community engagement in the future."
ENDS
Media contact:
Doug White | Synergy | 0439 904 770 | 08 9424 1977 | doug.white@synergy.net.au