Synergy partners with Perth Festival to bring world-class arts to regional Western Australia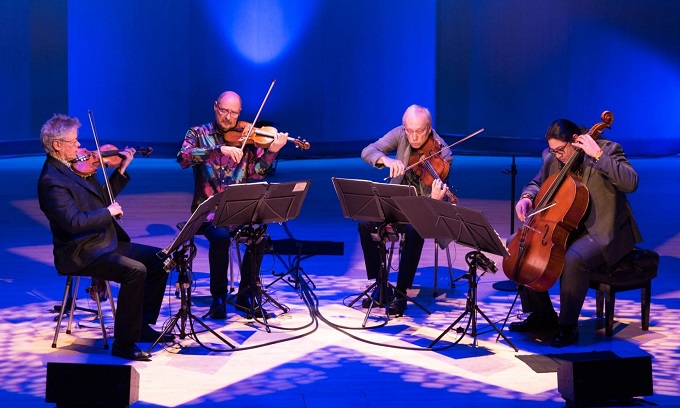 Synergy is helping bring world-class multi-arts experiences to regional Western Australians as a Supporting Partner of Perth Festival's 2023 and 2024 Touring WA programs.
Touring WA enables Perth Festival artists to share their creativity with regional audiences and Synergy joins as the exclusive energy partner for events in Albany, Beverley, Bunbury and Geraldton alongside the second-annual program's Leadership Partner, Minderoo Foundation.
Synergy's Supporting Partnership includes the world premiere collaboration between San Francisco's Kronos Quartet and Noongar composer and language revivalist Maatakitj (Dr. Clint Bracknell), which will be performed at the Albany Entertainment Centre tonight.
Synergy Chief Executive Officer, David Fyfe, said the partnership harnessed inclusion and diversity as a source of strength.
"Synergy's Supporting Partnership with Perth Festival is boosting connection between Western Australians as part of our commitment to adding social value in the communities we serve," Mr Fyfe said.
"The Touring WA program not only features great entertainment for all, but also includes community outreach to Aboriginal and LGBTQI communities.
"I'm delighted we will also be able to provide complementary tickets to members of the Menang Noongar community taking part in the production of Kronos Quartet's Albany show, which will platform Aboriginal culture and language during the spectacular performance."
Perth Festival's Executive Director Nathan Bennett said the new partnership with Synergy was helping to take the arts to people throughout WA.
"Perth Festival is delighted to be starting this partnership with Synergy, which will empower us to better connect regional communities with our international arts program through Touring WA," Mr Bennett said.
"As with Synergy, Perth Festival belongs to all Western Australians – we are grateful for Synergy's support and excited by the opportunities that our partnership will provide to engage with communities across the State and build a Festival that is accessible for all people, wherever they may live."
Synergy's support of the Touring WA program has also included a Writers' Engagement session at Beverley Station Arts Centre and performances of 'Happy Meal' in Geraldton and Bunbury during January and February, as well as an inclusive transport option for regional LGBTQI audiences when the 'Happy Meal Buses' connected audiences from Margaret River and Manjimup to Bunbury Regional Entertainment Centre earlier last month.
Audiences in Albany also able to enjoy the Lotterywest Films program currently underway at Orana Cinemas in Albany until Thursday, 23 March through Touring WA.
08 6282 7707
media@synergy.net.au
Follow us on LinkedIn and Twitter
Image: Kronos Quartet will perform at Albany Entertainment Centre in celebration of its 50th anniversary on Wednesday, 1 March 2023. Credit: Musical Instrument Museum