Synergy announced as finalist in national Clean Energy Awards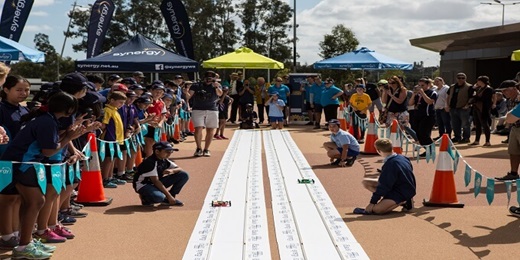 Synergy is pleased to announce it has been named as a finalist in the 2018 Clean Energy Council Awards for its Synergy Schools Solar Challenge.
The awards recognise outstanding contribution in the clean energy industry, particularly in the fields of innovation and business community engagement.
The Synergy Schools Solar Challenge is a joint initiative between Synergy and the Science Teachers Association of WA (STAWA) and has been running for two years.
In 2018, more than 1,000 students from 104 schools from Perth and the south-west participated in the challenge, up from 64 schools in 2017.
Synergy chief executive officer Jason Waters said the challenge was an excellent way to get students excited about science while educating them about the benefits of solar and renewable energy.
"Synergy is pleased to partner with STAWA to deliver an initiative that promotes the future of energy and encourages innovation and collaboration amongst students, two of Synergy's core values."
"The Synergy Schools Solar Challenge teaches students basic engineering principles in a fun and interactive way and is a great initiative to help inspire them and pique their interest in STEM subjects," Mr Waters said.
The challenge enabled Year 6 and Year 8 students to build and race solar-powered cars and was designed to address the low number of students choosing to study, Science, Technology, Engineering and Maths, or 'STEM' subjects.
Synergy also donated $10,000 towards science equipment to the winning Perth schools, Dianella Primary and Presbyterian Ladies College, and regional schools Bunbury Primary and Cape Naturaliste College.
The winners of the Clean Energy Council Awards be announced at the NAB Gala Dinner on 31 July, as part of the Australian Clean Energy Summit 2018 in Sydney.
ENDS
Media contact
Carolyn Herbert
Synergy
carolyn.herbert@synergy.net.au