Synergy Schools Solar Challenge Empowers Future Energy Leaders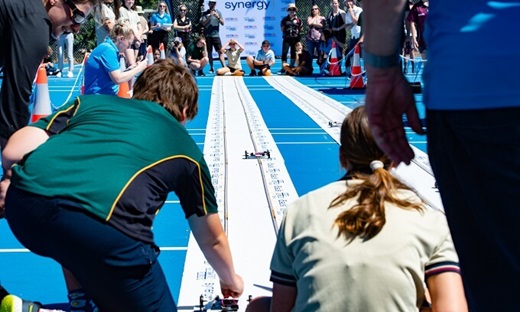 Over 690 students will be empowered to become energy leaders of the future when the sun shines in Bunbury this week for the 2023 Synergy Schools Solar Challenge.
Year 6 and year 8 students from over 130 schools in Perth and regional WA will design and build their own solar-powered cars to race against each other.
The sixth-annual Synergy Schools Solar Challenge is an exciting joint initiative between Synergy and the Science Teachers' Association of WA (STAWA), designed to promote renewable energy education in Western Australian schools.
Synergy Chief Executive Officer, David Fyfe, said students would learn important science, technology, engineering and mathematics (STEM) lessons through the Challenge.
"The Synergy Schools Solar Challenge offers a unique opportunity for young minds to build STEM skills and knowledge by learning about solar energy, battery technology and engineering principles," Mr Fyfe said.
"We hope to inspire and educate our future energy leaders through the Challenge to support a more sustainable future for all Western Australians."
The Synergy Schools Solar Challenge will commence at Newton Moore Senior High School in Bunbury on Tuesday, 14 March.
Teams of four will race against each other during heats, which will be held in Albany, Bunbury, Collie, Geraldton, Kalgoorlie and at two Perth metropolitan locations ahead of a Grand Final at Murdoch University on Tuesday, 4 April.
The educational component of the Synergy Schools Solar Challenge is building energy literacy in participating schools through educational packs to support students' learning about renewable energy, virtual power plants, battery technology, and electric vehicles during the program.
For more information about the 2023 Synergy Schools Solar Challenge, visit www.solarchallenge.net.au
08 6282 7707
media@synergy.net.au
Follow us on LinkedIn and Twitter