Synergy Schools Solar Challenge 2018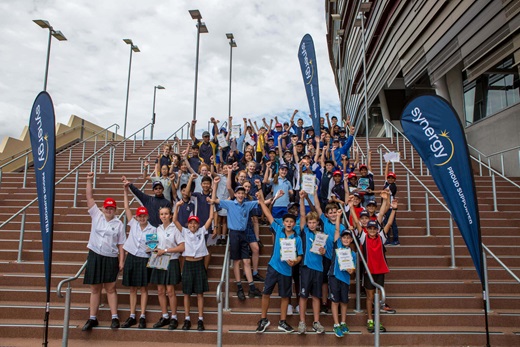 Year 6 students from Dianella Primary School and Year 8 students from Presbyterian Ladies College (PLC) are feeling energised after winning first prize in the 2018 Synergy Schools Solar Challenge held at Optus Stadium in mid April.

More than 1000 students from around WA took part in the joint initiative between Synergy and the Science Teachers Association of WA (STAWA) that enabled Year 6 and Year 8 students to build and race solar-powered standardised kit cars against other schools in semi-finals before the Grand Final held on Tues 10 April.

Year 6 Dianella student Urvish Sathavara said the team was still in disbelief about the victory.

"At first we thought we couldn't do it," said Urvish.

"Then everyone took a deep breath and said 'lets do this! It was all down to teamwork."

PLC Student Sarah Few said the team was thrilled with the win.

"We were so happy we won!" Sarah said. "It was great to be a part of this amazing event."

Olive Erickson also from the Year 8 PLC team said it was great to meet students from so many different schools around Perth.

"It was amazing!" said Olive.

"It felt like everyone was supporting each other, and all the other teams as well."

This year Synergy contributed $10,000 towards science equipment for the winning regional Year 6 and 8 teams, and the winning Perth Year 6 and 8 teams.

Synergy chief executive officer Jason Waters said the Challenge was all about getting kids excited about science while educating them about the benefits of renewable energy.

"The Synergy Schools Solar Challenge teaches students basic engineering principles in a fun and interactive way and is a great initiative to help pique their interest in STEM subjects," Mr Waters said.

"We were pleased to partner with STAWA for a second year to deliver an initiative that promotes innovation and collaboration amongst the students, two of Synergy's corporate values."

STAWA CEO John Clarke said participating schools were resourced with solar car kits and curriculum-linked support material to help teachers deliver Science, Technology, Engineering, Maths (STEM) learning outcomes around solar energy throughout the term.

"Getting students excited about science has its challenges and this initiative is a fun way for students to learn STEM skills which are vital for Western Australia's future," John said.
"Subsequently, the Synergy Schools Solar Challenge was about getting students to think about how certain modifications to the standard solar car kit, such as adjusting the solar panel angle or basic gearing, affected the speed the car will travel."

Record of winners from the Grand Final of the Synergy School Solar Challenge

Year 6
1st – Dianella Primary School
2nd – Wembley Primary School
3rd – Yanchep Lagoon
4th – Darling Range


Year 8
1st – Presbyterian Ladies' College
2nd – Kiara College
3rd – Penrhos College
4th – Ellenbrook Secondary College

For more competition information visit www.synergy.net.au or http://www.solarchallenge.net.au


ENDS