Synergy Schools Solar Challenge 2018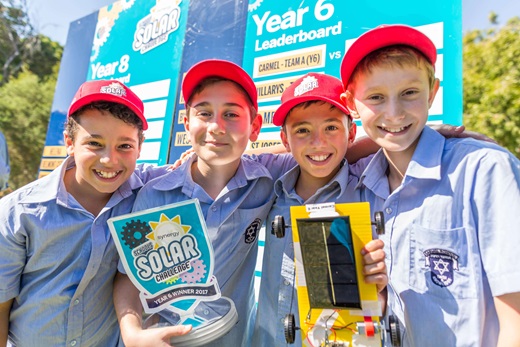 More than 1000 students from around Perth and the south-west will take part in a major initiative that teachers believe will ignite students' excitement about learning science at school.
The 2018 Synergy Schools Solar Challenge is a joint initiative between Synergy and the Science Teachers Association of WA (STAWA) that enables Year 6 and Year 8 students to build and race solar powered cars against other schools.
The program is designed specifically to address the comparatively low number of students choosing to study, Science, Technology, Engineering and Maths, what are collectively known as 'STEM' subjects.
This year Synergy will be contributing $10,000 to be put towards science equipment for the winning regional Year 6 and 8 teams, and the winning Perth Year 6 and 8 teams.
Synergy chief executive officer Jason Waters said the Challenge was an excellent way to get students excited about science while educating them about the benefits of solar and renewable energy.
"The Synergy Schools Solar Challenge teaches students basic engineering principles in a fun and interactive way and is a great initiative to help peak their interest in STEM subjects," Mr Waters said.
"We're pleased to partner with STAWA for a second year to deliver an initiative that promotes innovation and collaboration amongst the students, two of Synergy's corporate values."
STAWA CEO John Clarke said given so many jobs of the future are going to be technology based, the declining interest in STEM subjects is a problem STAWA is trying to address.
"The Synergy Schools Solar Challenge is unique as it's a fun and engaging program, which enables teachers to get their students excited about science and inspire them on a pathway to studying science in the senior years," Mr Clarke said.
"A Federal Government report has highlighted the extent of the risk to Australia's capacity to compete for thousands of jobs in the next decade as more industries become automated. The key to addressing what is going to be a global employment problem is having sufficient numbers of kids right now choosing to study STEM subjects."
The participating schools will be resourced with standardised solar car kits and curriculum-linked support materials, enabling the students to build and race the cars against other schools in the semi-finals in March, and then a grand final in April.
The competition involves five (5) semi-finals:
Tuesday 20 March – Regional (Bunbury) Newton Moore SHS
Thursday 22 March – South Rossmoyne SHS
Tuesday 27 March – Hills/East Mazenod College
Wednesday 28 March – North Warwick SHS
Thursday 5 April – West Newman College
The grand final will be held on Tuesday, 10 April 2018 at the new Optus Stadium.
For more information visit www.solarchallenge.net.au