Merredin and Southern Cross join WA EV Network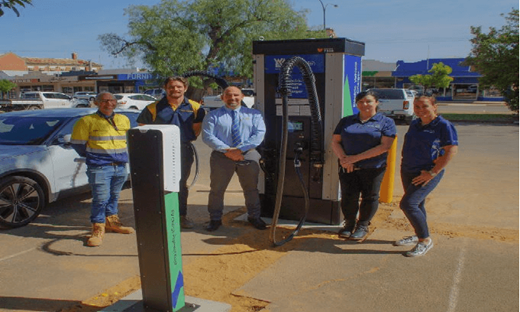 Merredin and Southern Cross have joined the WA EV Network with new fast chargers now in operation.
The charging sites have a 150 kilowatt (kW) fast charger that allows drivers to top up their EVs in as little as 20 minutes. Other features include a back-up AC 7.6kW charger, a user-friendly billing platform and real-time information.
The EV charging stations are located at:
Merredin – Central Wheatbelt Visitor Centre carpark, 85 Barrack Street

Southern Cross – 1 Altair Street, across the road from the Palace Hotel
Synergy CEO, David Fyfe, said the charging sites in Merredin and Southern Cross were a significant milestone with the WA EV Network extending east to the Goldfields.
"We plan to open a fast charger in Coolgardie soon and construction on an EV charging station in Kalgoorlie is expected to start early 2024," Mr Fyfe said.
The network is expected to be completed early next year with 49 EV charging locations, averaging less than 200km apart. It will be the longest EV network in Australia and one of the largest in the world.
The $23 million WA EV Network is part of the State Government's Electric Vehicle Strategy.
The strategy supports the adoption of EVs, including the State Government investment of over $200 million to support the electrification or cars and buses in Western Australia. Synergy has collaborated with local councils to deliver the EV fast chargers.
For more details, visit: WA EV Network.