Installation begins on WA's biggest battery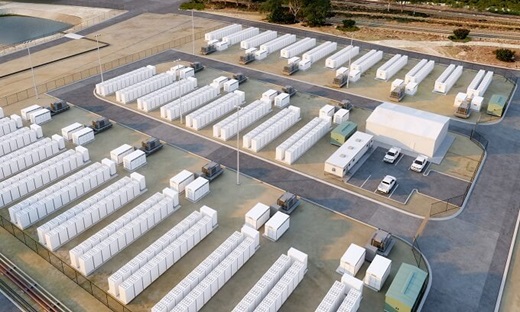 As announced by the Western Australian Government: Installation begins on WA's biggest battery
Major construction milestone reached in WA's first large-scale battery storage project
$3.8 billion McGowan Government investment to include 1,100 megawatts of future Synergy battery projects
Battery storage is key to supporting more renewables, as WA transitions towards net zero by 2050
The McGowan Government - through Synergy - is a step closer to delivering Western Australia's biggest battery, after the first battery units were installed today.
Premier Mark McGowan and Energy Minister Bill Johnston visited Synergy's big battery site in Kwinana this morning to see the project milestone.
Synergy will operate the 100 to 200 megawatt hour battery, which will have the capacity to power 160,000 homes for up to two hours.
The big battery will absorb excess energy from rooftop solar when the sun is shining, and demand is low - then discharge when it is most needed, during the late afternoon and evening peak.
The installation of more than 600 battery units will take approximately eight weeks.
The project will provide valuable learnings towards other large-scale battery storage projects earmarked for the next five years.
An estimated $3.8 billion in new renewable energy infrastructure announced by the McGowan Government in June will include an additional 1,100 megawatts of new storage, to be delivered through Synergy.
Large-scale battery storage will help provide long-term system stability, and support the uptake of more renewables in the South West Interconnected System as WA transitions towards net zero emissions by 2050.
Comments attributed to Premier Mark McGowan:
"My government is committed to further improving the stability of our power system by building WA's biggest battery in Kwinana.
"The big battery forms part of our commitment to net zero emissions by 2050, and will support the transition of WA's electricity grid to higher levels of renewables and storage.
"The installation of the battery units will take around eight weeks, and has created close to 140 jobs during the construction phase.
"I want to acknowledge NHOA - which is delivering the big battery - for their confidence and investment in Western Australia, by establishing its regional headquarters here in Perth. I recently visited their head office and thanked them for their support.
"Their energy management and solutions expertise, coupled with the fact that WA is unique in its energy security - sets us apart from the rest of the country.
"WA is a very attractive place to invest, and has the potential to become NHOA's western gateway to the Asia pacific region - helping diversify our economy and support jobs."
Comments attributed to Energy Minister Bill Johnston:

"Increasing energy storage over the next decade will be crucial to addressing system security risks, such as high levels of rooftop solar generation, and ensuring reliable power supply to Western Australia's main electricity grid.
"The lithium-ion iron phosphate big battery will be the size of one-and-a-half soccer fields, and will be connected to the Western Power network.
"Synergy is also implementing a battery management system, to optimise its performance and longevity."
Comments attributed to Kwinana MLA Roger Cook:

"This is another significant stride into the future for the Kwinana industrial area, and the local community.
"The technology and expertise in Kwinana makes huge contributions to the State's economy.
"But on top of this, Kwinana is also playing a key role in the energy transformation of our State."
08 6282 7707
media@synergy.net.au
Follow us on LinkedIn and Twitter
Image caption: Artist's impression of the Big Battery Project at Synergy's decommissioned Kwinana Power Station.