EV charging station launches in Manjimup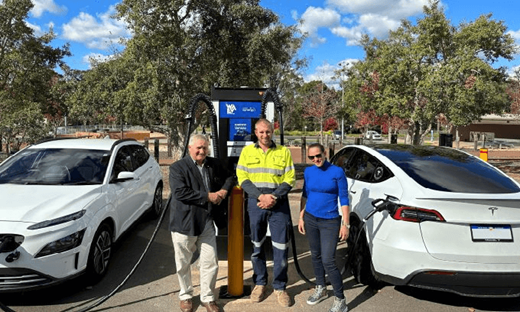 One of the first electric vehicle (EV) charging stations on the WA EV Network is now operating in Manjimup.
Synergy worked with the Shire of Manjimup to deliver the fast charger, which is centrally located on Johnsons Crescent.
The charger will provide up to 150 kW allowing drivers to top up their EVs in as little as 20 minutes. A back-up charger is also available at the site.
Synergy CEO, David Fyfe, said the Manjimup EV charger would encourage the uptake of electric vehicles in regional areas and support EV owners to travel throughout WA.
"This charger will be part of the WA EV Network's South-West corridor – with chargers now operating in Albany and Williams and another charger under construction in Walpole," Mr Fyfe said.
"At Synergy we're driving the uptake of electric vehicles, to support WA's road to net zero emissions by 2050."
The WA EV Network will be the longest in Australia stretching over 7,000 kilometres from Kununurra in the north, to Esperance in the south and east to Eucla.
It will feature 98 new electric vehicle charging stations across 49 locations along key travel routes averaging less than 200 kilometres apart.
The $21 million WA EV Network as part of the State Government's State Electric Vehicle Action Plan for Western Australia.
For more information visit WA EV Network.