Coolgardie joins WA EV Network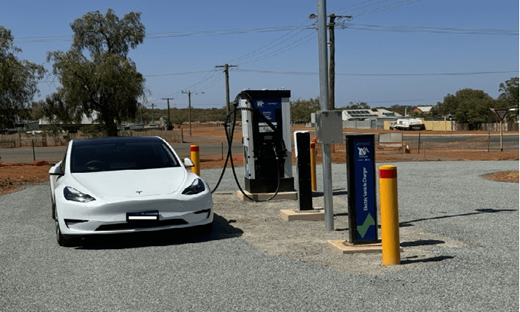 The WA EV Network now extends to the Eastern Goldfields with an electric vehicle (EV) fast charger now live in Coolgardie.
The new EV charging site is at 90 Bayley Street, beside the Coolgardie Shire Office.
It features a 150 kilowatt (kW) fast charger, that allows drivers to top up their EVs in as little as 20 minutes, and a 22kW back-up charger.
Synergy delivered the fast charger to ensure a fast and enjoyable user experience.
Synergy CEO, David Fyfe, said EV drivers can now top up along the WA EV Network in Merredin, Southern Cross and Coolgardie.
"With 19 WA EV Network charging stations now live across the State, Synergy and Horizon Power are reducing range anxiety for EV drivers," Mr Fyfe said.
"This is helping to drive the uptake of electric vehicles and supports WA's road to net zero emissions by 2050."
The network is expected to be completed early next year with 49 EV charging locations, averaging less than 200km apart. It will be the longest EV network in Australia and one of the largest in the world.
The $23 million WA EV Network is part of the State Government's Electric Vehicle Strategy and supports WA's road to net zero emissions by 2050.
For more details, visit: WA EV Network.