Albany joins WA EV Network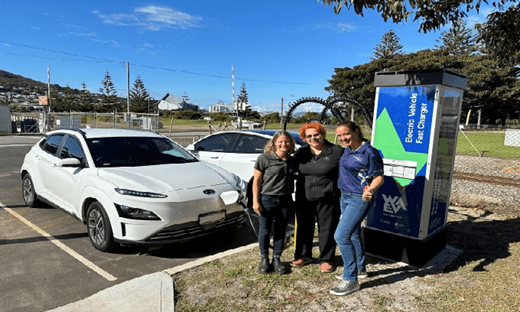 An electric vehicle (EV) charging station is now operating in Albany as part of the WA EV Network.
Synergy delivered two 150 kW EV fast chargers in collaboration with the City of Albany. They allow drivers to top up their EVs in as little as 20 minutes.
The EV charging station is adjacent to the Old Gaol, on the corner of Festing Street and Residency Road.
Synergy CEO, David Fyfe, said the new Albany EV charging station will encourage the uptake of electric vehicles.
"EVs are a way forward to help reduce carbon emissions and pollution in WA," Mr Fyfe said.
The WA EV Network will be the longest in Australia stretching over 7,000 kilometres from Kununurra in the north, to Esperance in the south and east to Eucla.
It will feature 98 new electric vehicle charging stations across 49 locations along key travel routes averaging less than 200 kilometres apart.
The $21 million WA EV Network is part of the State Government's State Electric Vehicle Action Plan for Western Australia. The aim of the plan is to deliver a future where EVs contribute to a safe, reliable and efficient electricity system.
For more information visit WA EV Network.