Wind energy
Wind energy is one of the cheapest forms of creating electricity, which is why it is the popular choice for renewable power in WA. While you've probably seen these impressive turbines dotting the landscape, it isn't immediately obvious how these giant structures use the wind to power our homes.
So, here's how it all works.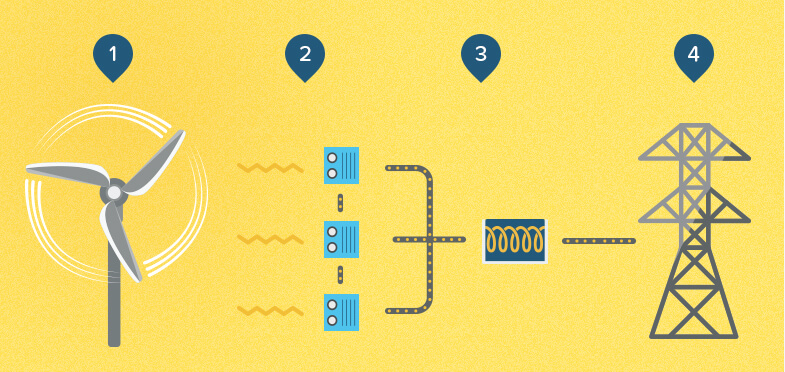 A rotor with blades sits on top of a tower that's around 80 or 90 meters off the ground.

Once the wind reaches at least 10-15km/h, the rotors will start spinning.

The spinning rotors generate kinetic energy that goes through a generator.

Electricity passes from the generator, through a transformer, and is exported to the grid.
Our wind farms
Naturally, Synergy makes use of wind to balance our generation portfolio. Not only is wind power safe, it is completely renewable and produces zero emissions.

Because of the extra capacity, our wind farms add to the grid, Synergy is able to reduce greenhouse gas emissions by around 109,000 tonnes per year. This is due to the fact that it creates less strain on our coal and gas-fired plants.

Our portfolio is divided between three wind-power sites and four that are a mix of wind and diesel power.

You can find Synergy's wind farms and wind-diesel systems at:


Albany Wind Farm
This farm, a joint venture with Bright Energy Investments, sits 80m above the Southern Ocean. It's such a prime location that there are only 7 days a year where the wind is not strong enough to turn the turbines.
Bremer Bay Wind-Diesel System
This installation provides almost half (40 per cent) of the town's annual electricity demands, reducing diesel consumption by a 40,000 litres.
Coral Bay Wind-Diesel System
The energy system at this remote town combines three wind turbines and a diesel power station.
Esperance Wind-Gas System
This south coastal location is home to two Synergy wind farms, which together provide 20 per cent of the Esperance's power needs.
Hopetoun Wind-Diesel System
Synergy's Hopetoun installation provides enough renewable energy to take the equivalent of 500 cars off the road, and provides 40 per cent of the town's electricity.
Kalbarri Wind Farm
Synergy's wind farm contributes around one third of the energy required by the community. It also offsets nearly 5,000 tonnes of carbon dioxide annually.