Power stations
To provide our customers with a reliable power supply, Synergy ensures that its power stations are ideally positioned across Western Australia.

West Kalgoorlie
West Kalgoorlie boasts two gas turbines and is fuelled by distillate, letting it take over in peak hours.
Synergy's electricity generation capabilities are spread across seven power stations within the South West Interconnected System (SWIS). Five can be classed as major power stations and are complemented by two smaller stations. The SWIS extends from Kalbarri in the north, Kalgoorlie in the east and Albany in the south.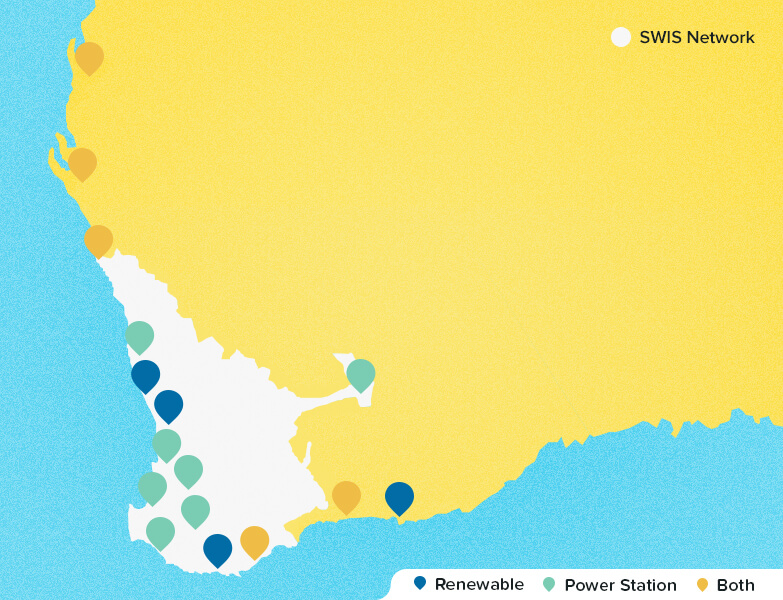 Kwinana
Our High Efficiency Gas Turbines at Kwinana combine excellent efficiency and extremely flexible operating capabilities. This facility is controlled remotely.
Cockburn
Cockburn Power Station uses combined-cycle technology which features capturing exhaust heat from a gas turbine and using the heat to drive a steam turbine.
Pinjar
Synergy's vital backup. When everyone turns their air conditioning on during summer, this is where the extra power comes from.
Muja
At 1094MW, Muja Power Station is Synergy's biggest power station. It is located 22km east of Collie near the Collie coal fields. It was opened in 1966.
Collie
This power station, like Muja Power Station, runs on coal from the Collie coal fields. Collie Power Station is a base load power station which is capable of producing up to 340MW of electricity for the SWIS network.
Synergy's supporting stations
Mungarra
Sporting another unique feature, this building is controlled remotely from Perth. Built in 1990 and located 50km south east of Geraldton, Mungarra Gas Turbine Station is fired by gas. The three gas turbines have the capacity to produce 112MW of electricity. The power station is important for voltage support at the northern end of the SWIS.