Synergy grants bolster Collie community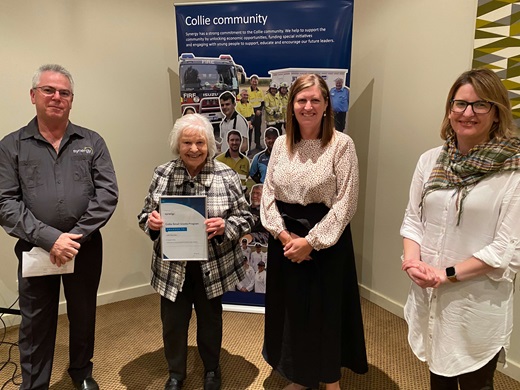 Last night nine local community groups were awarded grants of up to $5,000, as part of Synergy's 2021 Collie Small Grants Program.
The Program is in its third year and designed to recognise grass-roots community projects that will enhance the social, economic and environmental strength of the Collie community.
Held at the Collie Ridge Motel, this year's ceremony saw local member for Collie, Jodie Hanns MLA, and Collie Shire President Sarah Stanley, hand grants out to the winners. Synergy's Manager Thermal Generation, Mick Hill, was also in attendance and said the Synergy initiative was a great way to support the local area – especially as Collie embarked on its transition journey.
"The Collie community has started to evolve its public portfolio to offer broader and more diverse opportunities for locals and newcomers alike," Mr Hill said.
"Synergy is thrilled that its grants program can contribute to this effort and support causes that are not only front of mind, but which will help to deliver sustainable outcomes for the community's long-term prosperity.
"By only accepting grant applications for initiatives within the Collie postcode, and having a selection panel that includes employees who are also Collie residents – we are committed to ensuring benefits go right to the heart of what locals care about, and that will help drive ongoing development and growth in the area."
Recipients of the Synergy 2021 Collie Small Grants and their intended uses are:
Collie Cycle Club – to host the 96th Collie to Donnybrook Return Cycling Classic race, the oldest handicap cycle road race in Western Australia.
Collie Library – development of a suite of science, technology, engineering and mathematics (STEM) learning resources, and to support the establishment of a broader STEM Learning Club for local children.
Collie Community Radio – installation of a back-up battery to ensure the radio transmitter can convey important emergency messaging during a power outage.
Collie Eagles Football Club – upgrade for the lighting at their grounds to facilitate expanded operating hours and increased participation.
Coalfields Museum and Historical Research Centre – restoration of the Geldert truck, an iconic part of Collie's history.
Collie Italian Club – installation of disabled parking for increased participation and access. • Collie Woodturners Group – construction of a new storage shed to free up the current workshop, making it a safer workspace for members.
Collie Race Club – to build a secure ticket booth at the entrance of the racetrack, ensuring safer operations for volunteers and improving the facility's ability to diversify for use at other events.
Collie Bowling Club – replacement of the 45-year-old carpet in their clubrooms, giving the valued social facility a much-needed facelift.
The Collie Small Grants program is an annual initiative with each winning project aligning to Synergy's partnership pillars of Innovation, Education and Community.