Perth joins WA EV Network with launch of Kings Park fast charger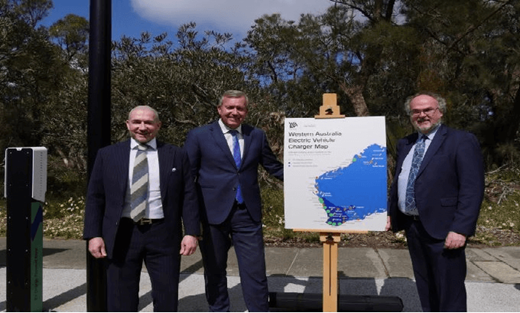 As announced by the WA State Government here.
Perth has joined the WA EV Network with Kings Park's first EV fast charger now operational.

The new EV charging site links Perth to regional towns along the WA EV Network, which is one of the longest EV networks in the world and the largest in Australia.

The EV charging site, located on May Drive opposite Zamia Cafe, has a 150 kilowatt charger allowing drivers to top up their EVs in about 20 minutes and a back-up 7.6 kW charger.

Horizon Power will open its Carnarvon EV charging site tomorrow at the Carnarvon Visitor Centre, 21 Robinson Street, – the 10th to go live on the WA EV Network.

There have been more than 1,500 charging sessions along the network since the first charging site went live in Geraldton in April 2023.

When completed, the WA EV Network will stretch over 7,000 kilometres from Kununurra in the north, to Esperance in the south and east to Eucla.

It will feature 98 new electric vehicle charging stations across 49 locations along key travel routes averaging less than 200 kilometres apart.

The WA EV Network is part of the Government's $21 million Electric Vehicle Fund and delivers on the State Electric Vehicle Action Plan for Western Australia.

For more information, visit: WA EV Network.

Comments attributed to Energy Minister Bill Johnston:

"Today is an exciting milestone for Perth with its first WA EV Network fast charger officially opening at Kings Park.

"This central location will be the heart of the network, which is opening up WA for EV drivers.

"By delivering 49 fast chargers along the WA EV Network, the Cook government is encouraging the uptake of electric vehicles and supporting tourism across the State."

Comments attributed to Climate Action Minister Reece Whitby:

"I'm proud our Government is investing in fast charging infrastructure to help drive the uptake of electric vehicles and steer WA towards a clean energy future.

"Kings Park is the centrepiece of our city, with about six million visitors each year. It's the perfect location for the WA EV Network fast charger, connecting metropolitan Perth to regional Western Australia.

"The electric vehicle revolution will reduce our dependence on fossil fuels, lower greenhouse gas emissions and improve our air quality. It's an important part of WA's road to net zero by 2050."
CAPTION: Synergy CEO David Fyfe, Environment Minister Reece Whitby and Energy Minister Bill Johnston.