John's battery - Getting started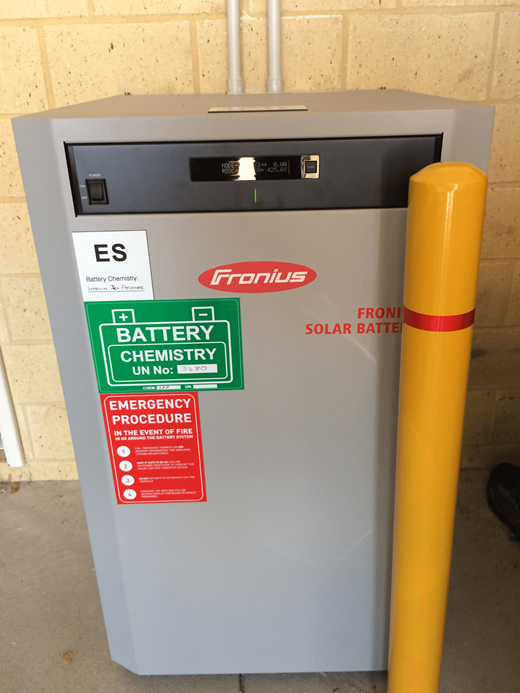 Our Synergy Experts spend their time exploring, experimenting and learning more about how energy works. Here, John shares what he is learning about the Fronius battery (known as "Berther") installed at his home.
Monday 28 November:
"Hi guys, well it was a fun weekend working out how to get the most benefit from the battery.

Firstly, after the battery was installed, we learnt excess solar energy charges the battery to 100% then feeds into the grid, before the battery drains as it is used.
On the hot weekend it took us two hours to discharge it as we switched 'Berther' on to cool the house down.
We played it differently on Saturday, cooling the house for a few hours whilst letting the battery recharge before turning it back on. The battery did not deplete after this until close to midnight. We had the air conditioner on all night using its outdoor mode. This basically draws air from outside if it's cooler than what the temperature setting is. The air conditioner compressors only kicked in at 22:00 which then used the last of the battery.
Learning how the battery functions at its best has certainly been an interesting process. We've had to be mindful of usage to get the most benefit from a battery and solar combination.
If you don't modify your habits, the benefit can be very short lived.
If you check
Fronius Solarweb portal dashboard
, you'll see
that by simply doing it smarter we were 67% self-sufficient on Saturday.
I feel there is a lot of misunderstanding around how batteries actually work. I certainly didn't have the knowledge before I started this trial. Smaller batteries would have very little benefit in a home with a larger air conditioning system. If like most people, your air conditioner is switched on when you get home, it would not take long at all to deplete the battery. This means peak time usage at night would see a household totally relying on the grid.
As a result, I personally think there may be people out there who won't get much of a benefit from this kind of combination without knowing how to get real benefits from it. They may think it only kicks in after the sun goes down and after the solar stops producing."