Powering through summer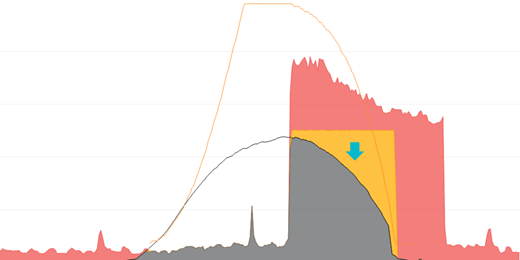 Air conditioning, fridges and other appliances use extra energy in summer, but John still saw positive results from his battery by the time his February bill arrived.
Tuesday 21 February 2017:
"The next bill cycle has come in and performance is pretty pleasing from a consumer perspective. I've had a look back over the bill cycle and install life cycle and discovered the following results:
• 92 days in operation
• 34 days no grid usage
• 5 days no generation exported to grid
• 75% average self-sufficiency over that time
The bill for the December actual and February projection is $68.60. That is a 92% decrease against last year and an 89% decrease on the six year average cost. That is what I would consider a substantial change in profile.
Winter performance will be interesting as there has been some indication of performance over the past weeks with low yield due to inclement weather.

Average production in the past couple of months has been 35kW however in the winter it drops to 20kW. That should be enough to charge the battery from its lowest state however if production drops below 20kW, the battery looks like it will not reach full charge.

The past couple of weeks have seen a string of hot days and already we have had increased consumption and reliance on the grid to top us up. I would expect that cooler weather will follow later in the month which will change the profile. The next period is generally half the value of the February period."
John's battery trial showed some real savings on the energy bill at his home. If you would like to see how battery power could work for you, visit our online Energy Hub or read our FAQ page.