Synergy 2016 annual report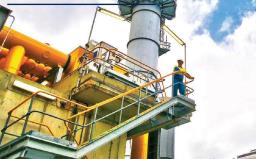 "The 2015-16 financial years represented another 12 months of Synergy overcoming the blistering challenges to the electricity sector resulting from disruptive technologies and, laying the foundation for future sustainability. We have developed a corporate strategy with a strong focus on delivering the new products and services demanded by our customers.
Synergy is actively implementing a transformational strategy that will see it transition more rapidly to a modern energy provider. The organisation is also focused on playing a role in influencing and shaping energy policy outcomes at state and federal levels to ensure Western Australia's future energy market is sustainable, successful and delivers benefits to all energy consumers and the broader community.

Synergy is very aware that these changes can only be achieved from a position of trust where its corporate brand and reputation are held in high regard by the government, industry and the community".
Lyndon Rowe
Chairman, Synergy
Read the 2015-16 Annual Report