National Lifestyle Villages Vibe Baldivis
Summary
Vibe Baldivis Lifestyle Village is owned and managed by National Lifestyle Villages. Located around 47km south of Perth, the village is home to residents who live independently in a range of housing options.

Residents at Vibe Baldivis use a clubhouse, arts centre, workshop, lawn bowls green, pool and a range of other facilities. Social events, classes and activities are also hosted within these facilities at various times of day and night, across all months of the year.
The village requires a significant amount of electricity to operate the outdoor pool, along with facilities, equipment and air-conditioning in the shared community areas.

When National Lifestyle Villages management was looking for ways to be more sustainable and help save on their overhead costs across several locations, they turned to Synergy for a commercial SolarReturn system.

In April 2019, a 47-panel system was installed on the clubhouse rooftop, with 41 solar panels installed at the bowling green, as part of the village's overall SolarReturn solution. Based on the way this village has used electricity in the past, village management could see potential savings of around $7,000 per year thanks to solar power.#
# Estimated potential savings only based on system size, expected output and calculated against historic electricity supply costs based on current tariffs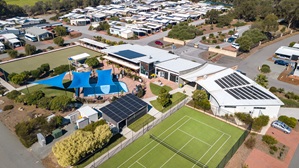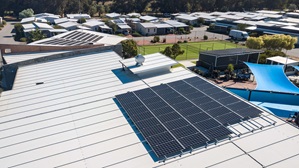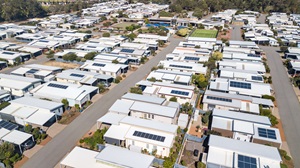 Project Challenges
There were two solar installation locations to manage within Vibe Baldivis, so the installation needed to be planned carefully. It was important to manage the installation team's lay-out area and planned power outage with the safety of everyone in mind, while also keeping any disruptions to village activities to a minimum.
Testimonial
"In the end we chose Synergy because of the insight you had on our existing usage patterns, as well the security the Synergy brand brings with it. Given your relationship with Western Power and the fact you are both the energy retailer and solar supplier, the process was much more seamless than compared to when we have used 3rd party installers previously. Additionally, we wanted to make sure that the products long warranty periods could actually be serviced and given Synergy is the state owned utility we were comfortable that unlike other solar suppliers, Synergy would be around in the future to help if need be."
-Andrew Watkins, National Lifestyle Villages Development Manager.

Project Overview
INDUSTRY

Aged Care

LOCATION

Baldivis

INSTALLATION DATE

04/2019

SYSTEM SIZE

13.16kW & 11.48kW

SOLUTION

Clubhouse
47 x Trina Solar TSMPD05 280W Panels
1 x Fronius Symo 10KW Dual Tracker Inverter
Bowling Green
41 x Trina Solar TSMPD05 280W Panels
2 x Fronius Symo 5KW Dual Tracker Inverter
Future Forecast
| | |
| --- | --- |
| ESTIMATED ANNUAL BILL OFFSET* | 40% & 36% |
| APPROXIMATE PAYBACK PERIOD* | 3.4 years & 4.6 years |
*Estimated annual bill offset and approximate payback period are indicative only based on system size, the price paid, historic consumption and electricity supply costs for the premises and current electricity tariffs. If the consumption habits at this premise significantly change, the estimated annual bill offset and payback period will also change.
Investing in solar energy for your business could help you to bring down your electricity costs and reduce your environmental impact. Our SolarReturn team can use their industry expertise to match the unique way your business uses electricity with a solar solution to suit your commercial needs.
The future of energy in your inbox here
Thanks for registering !!!