Festival fun and free solar power
You might have heard that Synergy is driving WA's intelligent energy future – and in this case we mean it literally!
Solar on the Move is our custom-designed solar trailer, equipped with the latest solar and battery technology to collect and use solar energy.
Here's how we're using Solar on the Move to power upcoming festivals:
The trailer will generate and use free solar energy.
The energy will power event stages and some other festival facilities.
You can charge your phone for free on one of the eight wireless phone charging stations on the Solar on the Move trailer.
The trailer tech specs
When you see Solar on the Move at an event, you'll find a TV screen in the viewing area to show you how the system is generating and using solar power, and help you learn more about solar energy.
You'll be able to see first-hand how the inverter and batteries are housed inside. You'll also see the hydraulic arms which tilt the panels towards the north (the best direction for catching the sun's rays) throughout the day.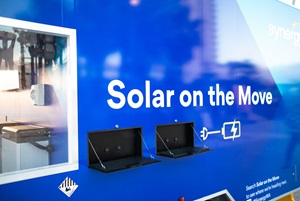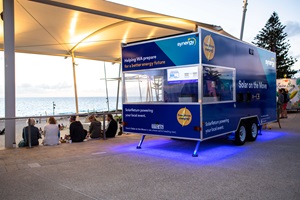 Our portable generator features our SolarReturn battery and solar panel products with:
6 x 360 LG Neon Panels
1 x Fronius 3kwPV Inverter
1 x Selectronic SP PRO 481 Battery inverter
2 x LG 13kwh 48V Batteries
On any typically sunny Perth day, the solar panels can generate up to around 12kwh of power into the battery each day. That's the equivalent of powering two energy efficient homes every day.