Energy saving in the kitchen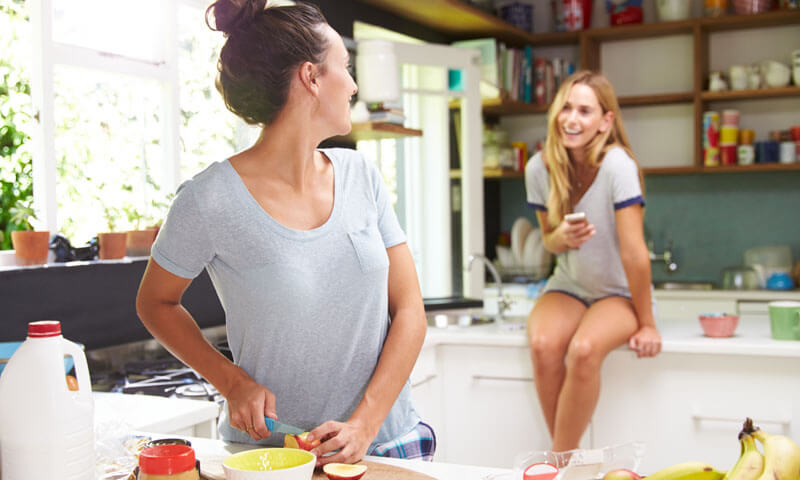 Saving money on food is not just about your groceries. It's surprisingly easy to use less energy in the kitchen to help reduce the cost of meals. "Households have never relied on energy more and this is particularly true in the kitchen," Synergy Manager – Energy Solutions Allen Gerber said.

"In WA our kitchen appliances account for around 18 per cent of our energy use at home. By making simple changes to your food preparation, such as switching off your second fridge when not in use, you could see a difference on your energy bill."
Appliances
Opt for the latest, energy-efficient cooking appliances over old, less environmentally-friendly models. When shopping around, look out for the energy star rating to see how energy-friendly an item is. Or, if you've had the microwave and toaster for years, maybe it's time to upgrade your appliances to options that are better for the environment and your wallet.
Make sure you only use the dishwasher when it is full and regularly clean it to ensure it's working optimally. Clean the grease vent in your kitchen rangehood or exhaust fan once a month to keep it running well.
Cooking
Cook meals in batches to reduce time spent in the kitchen. You'll help cut your energy bill and the time spent cleaning (bonus!) if you cook several meals at once and freeze the rest to be eaten another day. You can also try cooking multiple things at once time. This is best if you have a larger oven.

When using a fan-forced oven, go for stainless steel skewers as opposed to wooden skewers, as the steel will help to heat and cook the meat faster. You can also try switching off your electric oven before the meal has finished cooking. The oven actually remains at the same temperature for several minutes after it has been turned off before it starts to cool down. Serve food in glass and ceramic dishes as they have better heat retention, so you will not have to do as much reheating when entertaining. Opt for flat-based saucepans with tight-sealing lids and choose the right hotplate for your pot. It should cover the entire hotplate as to minimise energy loss.

Energy-efficient cooktop options include ceramic, halogen and induction. Ceramic cooktops mean you can accurately and quickly control temperatures. Halogen cooktops also mean greater temperature control and superior results. Induction cooktops are the latest must-have in the kitchen – sorry Thermomix! Instead of the cooktop actually heating, it uses electromagnetic energy to heat the metal of the pot or pan. The induction method is fast, efficient and with highly sensitive controls that can manage temperature to within a degree.
Fridge/freezer
Plan out your recipe so before you open the fridge door, you know exactly what you're getting. Taking your ingredients out together reduces the amount of cool air that escapes and consequently the amount of energy required for your fridge to reacclimatise to its optimal temperature (between three and five degrees). Before putting warm food straight in the fridge, let it cool naturally by sitting out. Also defrost any frozen food in the fridge first, rather than putting it straight in the microwave. When the ice in your freezer gets to 5mm or thicker, it's time to defrost. This helps freezers operate more efficiently and it will take less energy for the freezer to keep your food icy cold.

Also try not to overstock the fridge, as this will overwork it. Every now and then, check to see the oven and fridge door seals are still working effectively. If you can slide a sheet of paper between the appliance door and the seal, it is time for an upgrade.
Learning how to better manage your energy for winter is one of the best actions you can take to reduce your bills over the cooler months.

Article original source: The West Australian Online- WA Energy Challenge Supplement