5 no-cook recipes for a cooler kitchen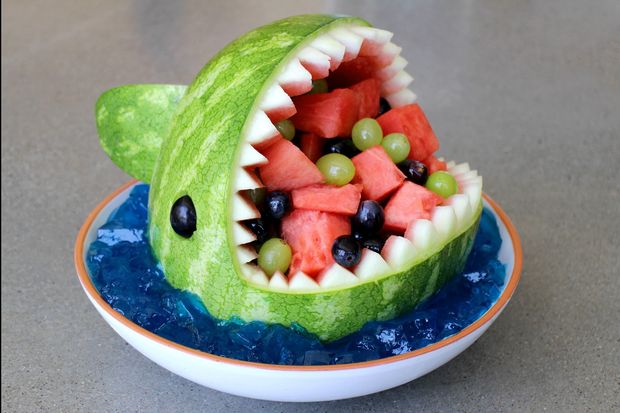 Just to be clear: A "cooler" kitchen doesn't mean hand-cut designer tiles on your splashback, a fridge with Bluetooth speakers or a vertical indoor herb garden in this case. We're talking degrees Celsius – and how to keep those to a minimum in your kitchen when you're trying to keep your house cool!
If you've got kids, summer holidays is a great time to get your kids involved in the kitchen. On a hot day, the last thing you feel like making – or eating – are hot, home-baked goodies. So here are five no-cook snack ideas to make and help keep your kitchen cooler.
Home-made icy poles
These can be as simple as fruit juice frozen into some icy pole moulds with some pretty chunks of fruit added – or as complex as marbled yoghurt and pureed berries with chopped hazelnuts to garnish. The sky (or your Pinterest or Instagram feed) is the limit!
Fruit sculptures
If your knife skills aren't quite a match for the watermelon shark, you can keep things really simple. Cut some slices of different types of melon or soft fruits for your kids then set them to work with shaped cookie cutters and see what they can create. If perfectly sized cubes are more your style, your kids can use them as building blocks to structure their own snack or you could help them skewer them into fruity kabobs.
A kid-friendly cheese plate
Skip the blue cheese and stuffed jalapenos and create a cheese plate that kids will get excited about. Use a cookie cutter for some shaped cheddar slices. Sprinkle nuts, seeds or dried fruit in patterns. You could even use a piping bag (or zip-loc bag with a corner snipped off) to pipe cream cheese or dips on top of crackers or vegie slices for some great-looking savoury snacks.
Bliss balls
Technically, to make bliss balls you'll probably need to use a food processor for a few seconds but they are ultimately "no-cook" snacks. There's no limit to the number of recipes you can try – ranging from delicious vegan "lamington" balls with dates, cacao and coconut to simple-but-tasty condensed milk and Weetbix versions. There are even recipes available to mimic your favourite chocolate treats – including Mars Bars, Cherry Ripe and Tim Tams! Check your favourite food blog or recipe site for inspiration.
Trail mix
Sweet, salty, crunchy and chewy – what's not to love about trail mix! Your trail mix might have any combination of healthy or treat foods. Think raisins, cranberries, dried apricots, nuts, seeds, rice crackers, popcorn, pretzels, yoghurt covered sultanas, shaped breakfast cereal, mini marshmallows, chocolate chips and much, much more. It's probably best to use a recipe to guide you rather than end up with the contents of your pantry in one giant bowl. Once your kids have mixed up your trail mix, you could scoop out a cup, bowl or bag-full for everyone and watch your favourite family movie!