Heatwave Hacks winning entries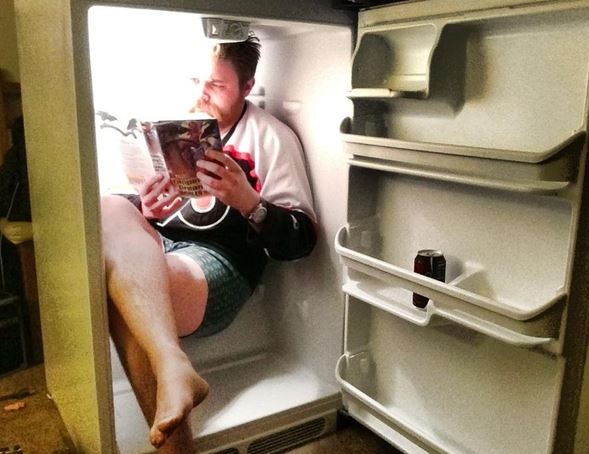 On those really hot days, all you want to do is find a cool place to relax out of the heat! While sitting in the fridge with a book is a suggestion, we really don't recommend that!

We had an overwhelming amount of entries to our Heatwave Hacks competition, so why not check out our chosen Top 10 to see how creative you can get to stay cool.
Turn it off
Turn off all appliances by the switches except the essentials like your fridge. You'll be surprised how much heat is conducted by electrical appliances!
Cool sheets
Stick sheets in the fridge/freezer for a few minutes before bed. We recommend placing them in a plastic bag first to avoid pizza sheets.
Bucket on the head
Hubby has found the rather novel idea of placing the ice bucket on his head seems to work!
Yummy drinks
Puree mangoes and freeze in ice cube trays. Put a few ice cubes in a tall glass with some chilled soda water. Refreshing, healthy and hydrating!
Explore our surroundings
Heading to any of WA's amazing beaches of course!
The way it's built
Brick house, good insulation, blinds down, air-con on 24 degree's. Hottest day we had here was 45 degrees and we were still comfortable inside.
Interior design
I got dark heavy curtains with sunblock backings put throughout my house and that seems to keep heat out and in winter us nice and warm.
Chill your moisturiser
Could be a weird thing that I do, but 100% recommend - keep your moisturiser in the fridge & then apply, cools you down heaps!
Plant it
I grew trees east and west of the house. They shade the house and funnel cooler air down. Also have roller shutters. No air-con needed.
Nan's tips
My nan used to swear by dipping her feet in an ice bath. It works wonders! My feet are in a bucket right now.


We had such an eclectic mix of entries, so if none of these work for you there are plenty more to choose from. Check out our Facebook competition post to read all the amazing entries that we received. Like us on Facebook and keep an eye out for our next competition!