Synergy supports Lifeline Christmas Appeal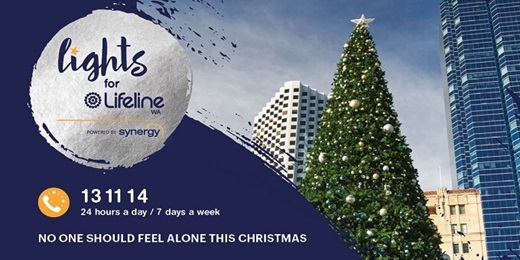 MEDIA RELEASE
19 November 2018
Synergy supports Lifeline Christmas Appeal
Synergy is pleased to announce it is once again supporting Lifeline WA in its 2018 Lights for Lifeline Campaign this festive season.
Western Australia's biggest Christmas tree has been lit up in Yagan Square as a reminder that there is help available for anyone who might be struggling during the festive season.
The 15.5 metre high Christmas tree is adorned with 46,000 lights, representing the number of West Australians who called Lifeline's crisis call centre in the past year.
Synergy marketing manager Kelley Yeats said Synergy was proud to once again support such an important not-for-profit organisation such as Lifeline WA.
"Christmas can be a difficult time of year for many people, and Lifeline WA provides a vital community service, proving that nobody needs to face their problems alone this festive season," Ms Yeats said.
"The mental health of our people is of paramount importance to Synergy and we are thrilled to be involved in this campaign to raise awareness that there is help out there for any of us who need it 24 hours a day/365 days a year."
Lifeline WA Chief Executive Officer Lorna MacGregor said the tree was part of the organisation's 'Lights for Lifeline – Powered by Synergy' campaign, which reminded people that no one should feel alone this Christmas.
"For many people, the festive season can be a very stressful time, when financial pressures, family problems and alcohol and drug issues can be exacerbated," she said.
"We find that at this time of year, the demand for our services increases as people seek assistance to cope with these pressures."
More than 40,000 West Australians called the national Lifeline service from 2016-17, with the festive season remaining Lifeline WA's busiest time of the year.
The Lights for Lifeline campaign will be officially launched at an exclusive function overlooking the Yagan Square Christmas tree on Tuesday 20 November.
The tree was lit up on 16 November and will remain in the square until 27 December.
You can support Lifeline WA by donating to the Lights for Lifeline campaign: https://www.lifelinewa.org.au/Donations.
ENDS
Media contact: Carolyn Herbert
Synergy 0447 195 714/ (08) 6282 7319
carolyn.herbert@synergy.net.au
About Synergy
As Western Australia's leading energy generator and retailer, Synergy is an essential and trusted provider of electricity and gas to more than one million residential, business and industry customers.
Synergy employs more than 900 people and owns and operates over $1.7 billion worth of assets. Its generating portfolio is extensive and diverse with traditional power stations servicing the electricity grid that extends from Kalbarri in the north, east to Kalgoorlie and south to Albany. Synergy also generates electricity from renewable sources located at Albany, Bremer Bay, Coral Bay, Denham, Geraldton, Esperance, Kalbarri and Hopetoun and proudly supports the people of Western Australia by playing an active role in the communities in which we operate. Synergy is owned by the Government of Western Australia and for more information visit www.synergy.net.au.