Synergy Power's the Subiaco Street Party this April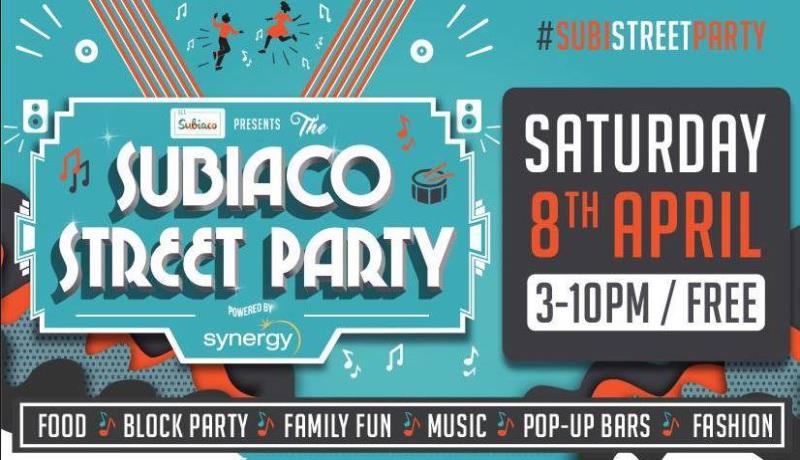 The streets of Subiaco will come alive again this April as See Subiaco proudly presents the second annual SUBIACO STREET PARTY on Saturday 8 April 2017; powered by Synergy and supported by the City of Subiaco
About 40,000 people are expected to attend this free community event and soak up the music, food, entertainment, street bars, rides, live art, fashion, shopping and more; in a celebration of Subiaco's rich café strip culture.
Renewable energy will feature throughout this year's Subiaco Street Party where Synergy will light up the one-day event with renewable energy, powering all of the temporary structures, stalls, food vendors, stages, entertainment and activities.
Synergy will also give away free popcorn for partygoers who participate in the energy challenge at the Synergy stand.
Synergy chief executive officer Jason Waters said Synergy was pleased to support the exciting community event by providing all of its power requirements with renewable energy.
"We recognise the important contribution we can make by demonstrating the positive role energy plays in delivering vibrant community initiatives such as the Subiaco Street Party," Mr Waters said.
"As WA's leading energy provider, Synergy is committed to providing energy management solutions as we transition to an intelligent energy future."
The inaugural Street Party in 2016 was a resounding success; exceeding crowd projections and attracting 35,000 locals and visitors across the afternoon and evening. The boutique street festival was hailed for the vibrant yet relaxed atmosphere, as well as the diverse and entertaining program that paid homage to the unique character of Subiaco.
On Saturday 8 April between 3.00pm to 10.00pm, Rokeby Road and the surrounding streets and alleyways of Subiaco will transform into an even bigger party playground this year.
Commencing at Barker Road, the party will run down Rokeby Road and this year extend across Hay Street and all the way to Roberts Road. In addition, Hay Street will be part of the action from the Colonnade down to Rowland Street. Connecting streets and laneways off Rokeby including Forrest Walk, and Churchill Ave will play host to pop-up entertainment stages, food trucks and other attractions.
Early highlights of the 2017 program produced by event organisers UpBeat Events, include a Street Block Party, live art installations, more family attractions and a new pop-up open-air bar taking over two streets outside at the Subiaco Hotel.
A full program and map for the Subiaco Street Party will be released soon. Join the Facebook page and connect socially for program updates and news:
Website www.subiaco.wa.gov.au/subiacostreetparty
Facebook TheSubiacoStreetParty