Synergy plugs Collie into electric transport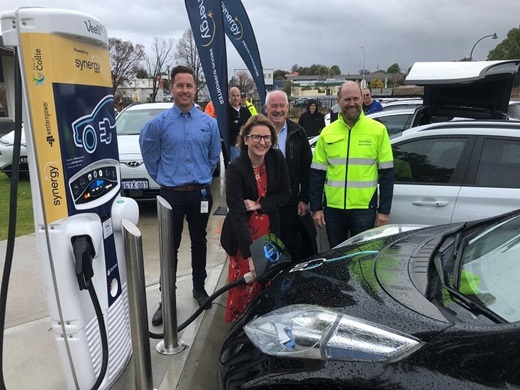 Electric vehicles could become a familiar sight in Collie following the installation of a 50kW EV charging station thanks to Synergy.
The fast charger establishes Collie as travel destination for electric vehicle owners, creating new opportunities to draw visitors to the town and surrounding region.
Synergy has gifted the fast charger to the Shire of Collie as an extension of its support for the region's economic diversity, as well as fostering the adoption of electric vehicle technology locally.
Synergy CEO Jason Waters joined Shire of Collie President Sarah Stanley and Collie-Preston MLA Mick Murray to plug-in the first vehicles on Friday.
"Synergy is thrilled to provide this EV charger to the Shire of Collie which we hope to continue to support the region's economic prosperity, as well as help to unlock new opportunities," Mr Waters said.
"Synergy believes that EVs will play a role as part of Western Australia's future transport mix."
To make the charger available for everyone, it has been positioned in a Shire of Collie car park on Forrest Street, immediately adjacent to the central business district.
"Placing the charger central to the town provides visitors with access to local shops, parks and facilities while they recharge for the next part of their journey," Mr Waters said.
The EV charger has been installed with the help of Western Power, with the Shire of Collie to manage the ongoing operation of the charger, its billing and user costs.
EV users who wish to access the fast charger will do so through the Charge Fox app on their smart phone, a common set-up for most EV owners. The Tritium Veefil charger is fitted with CCS2 (Type2) and CHAdeMO charging cables and will suit most modern electric vehicles.
The fast charger will be available for use every day, 24 hours a day.